Tuning Porsche 992 Stinger light pack
Porsche 911 Carrera is an icon in the world of sports cars. It's a technically flawless automobile known for its strict, minimalist design. For some, this is a plus, while others may desire a bit more expressiveness.
It's precisely for those customers that we've created an aerodynamic body kit for the 992 Carrera GTS and Targa GTS models in all variations. Its purpose is to delicately accentuate the engineering excellence of Porsche. This kit consists of carbon fiber components that align with the 911's design language but carry a more aggressive appeal.
The package includes a front bumper lip and side grilles with air ducts, enhancing the bumper's expressiveness. The hood, with an additional aerodynamic air vent, adds complexity and sportiness to the car's appearance. For the Cabriolet and Targa versions, there's an exclusive windshield frame option not found on any other Porsche.
Redesigned side skirts maintain the overall style of the aerodynamic body kit. Rear bumper boasts a large diffuser with air ducts. To complete the look, kit includes carbon fiber mirrors, small spoiler, and Stinger strip for the rear bumper.
The entire aerodynamic body kit is crafted from carbon fiber. Customers have a choice of finishes: the signature Porsche Twill 2×2 carbon or the TopCar Design signature carbon with larger Twill 4×4 weave. Additionally, you can order carbon in colored variations.
When paired with the Stinger Light Pack, sport exhaust systems and ultra-light forged wheels from TopCar Design are also available.
Installation of the aerodynamic body kit is straightforward. Thanks to TopCar Design's extensive dealer network worldwide, body kit can be delivered and installed quickly and with high quality.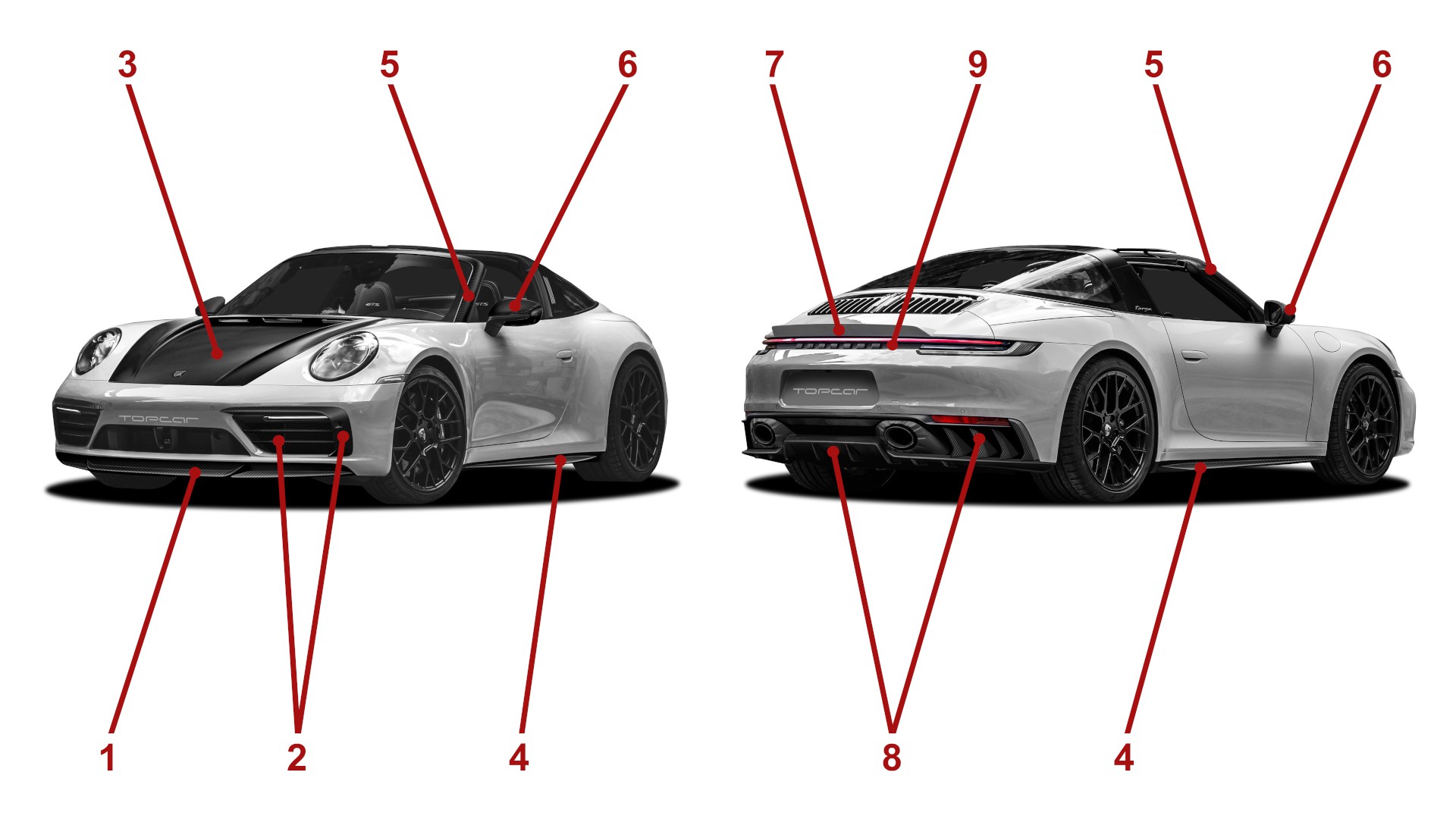 Title
Unit price
Porsche 992 Stinger light pack
1. Lip of the front bumper, Visible carbon
1 600

.00 €

2. Side air intakes of the front bumper, 2 pcs, Visible carbon
1 000

.00 €

3. Hood, Visible carbon
6 500

.00 €

4. Side skirts, 2 pcs, Visible carbon
3 550

.00 €

5. Windscreen frame, Visible carbon
1 500

.00 €

6. Side mirrors, 2 pcs, Visible carbon
2 500

.00 €

7. Rear spoiler, Visible carbon
1 100

.00 €

8. Rear bumper bottom part, type A, Visible carbon
3 800

.00 €

9. Strap STINGER rear bumper, Visible carbon
400

.00 €

Options
1. Hood, Primed carbon
5 000

.00 €

2. Rear spoiler, Primed carbon
550

.00 €

4. Special color edition, Any color custom made (+25% EXTRA)
5. Titanium exhaust (Akrapovic) with black tips
8 125

.00 €

6. Inconel exhaust (Kline) - Valvetronic silencer section
6 500

.00 €

7. Exhaust (Kline) - carbon fiber tips, 2 pcs.
1 100

.00 €

8. Inconel exhaust (Kline) - Manifolds 2 pcs.
4 135

.00 €

9. Inconel exhaust (Kline) 100/200 cell HJS cat or decat pipespipe set 2 pcs.
2 200

.00 €

Wheels
Forged wheels RS edition (set of 4 wheels), front: 20x9.5 ет27, rear: 21x12 ет57
9 600

.00 €

Forged wheels RS edition, front: 21x9.5 ет27, rear: 22x12 ет57
10 800

.00 €

Forged wheels Aero style (set of 4 wheels), front: 20x9.5 ет27, rear: 21x12 ет57
9 600

.00 €

Forged wheels Aero style, front: 21x9.5 ет27, rear: 22x12 ет57
10 800

.00 €

Forged wheels Aero style Carbon (set of 4 wheels), front: 21x9.5 ет27, rear: 22x12 ет57
14 500

.00 €