Tuning Porsche 992 Stinger GTR Carbon Edition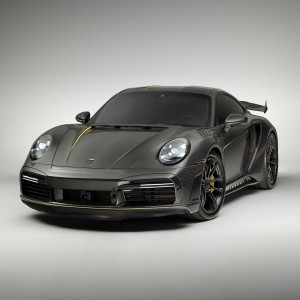 Show all
Fully carbon fiber Porsche 992 Stinger GTR Limited Carbon Edition by TopCar Design.
The most complicated project in the history of the company. This tuning package consists of 84 parts made of 4 layers of carbon fiber (external, internal and 2 structural layers). The 100% car's surface is subject to change. Limited to only 13 copies coupe.
Optionally for order are available forged wheels by TopCar Design and titanium exhaust system with black tips.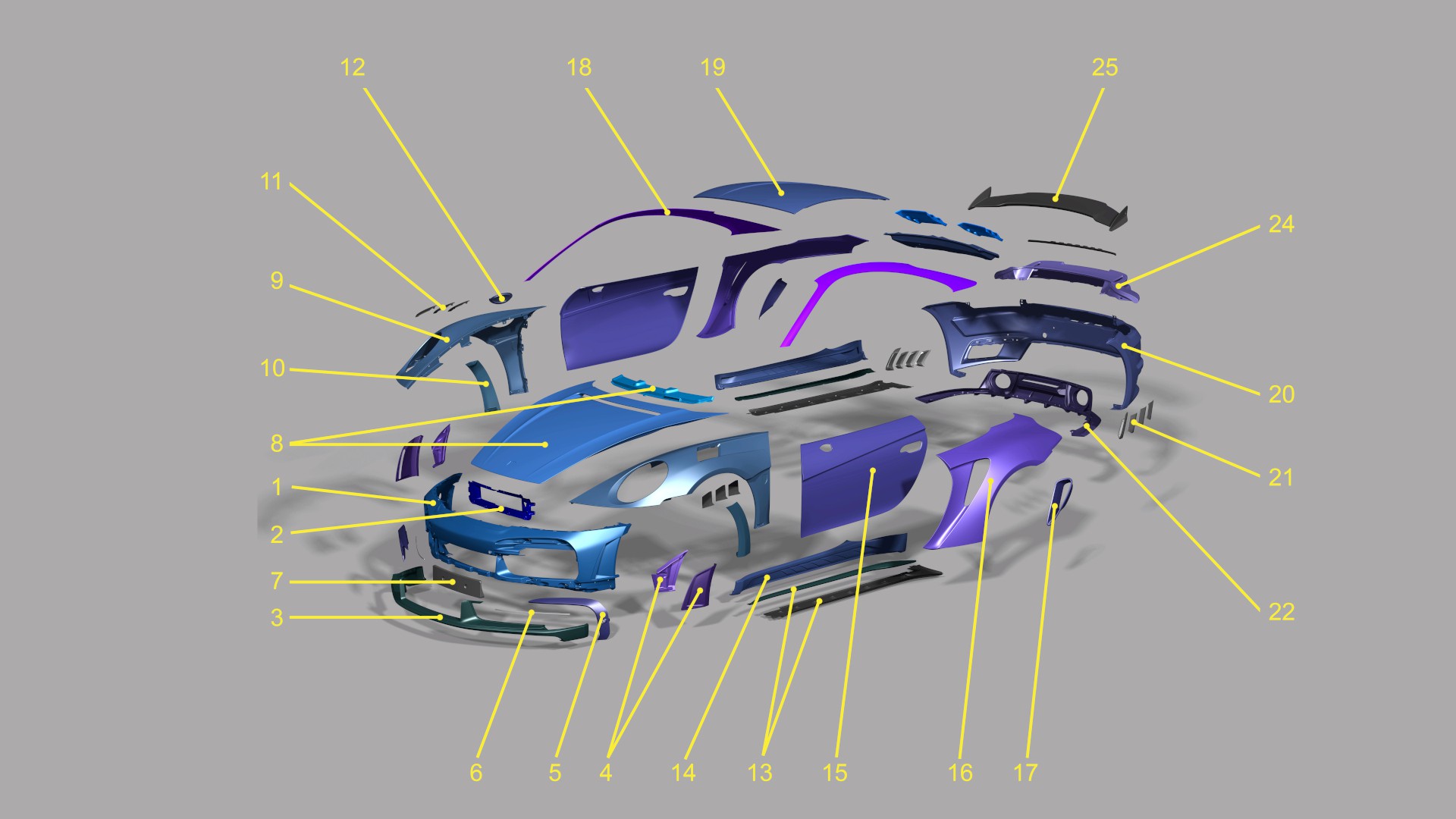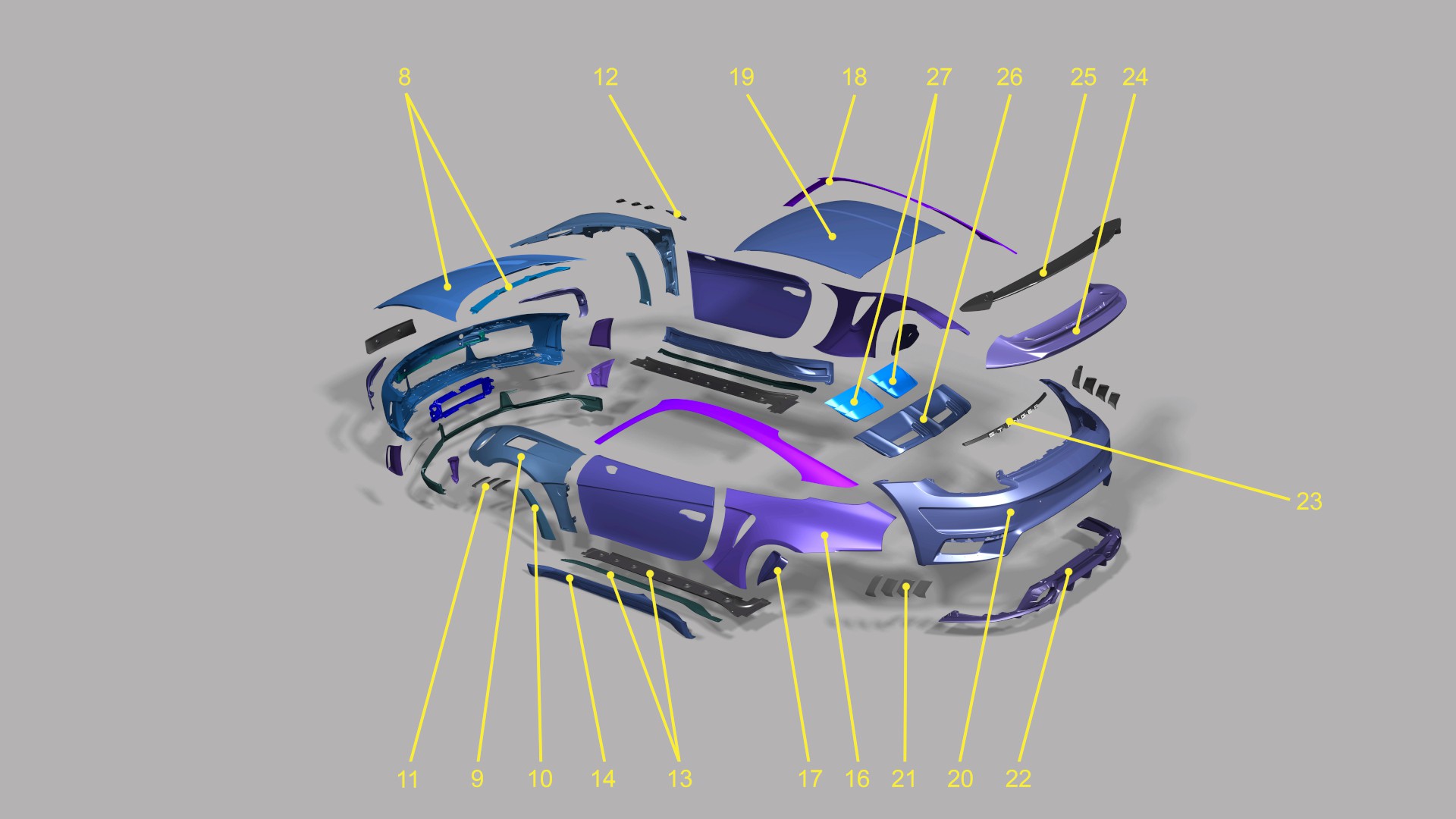 Title
Unit price
Body Kit with Carbon Parts €

100,000.00

Carbon edition - there will be 13 body kits only ( limited edition )
1. Front bumper, Visible carbon
2. Central air-intake, Visible carbon
3. Lip of the front bumper, Visible carbon
4. Side air ducts of the rear bumper, 2 pcs, Visible carbon
5. Side inserts of the front bumper 2 pcs, Visible carbon
6. Inserts under LED-lights, 2 pcs, Visible carbon
7. frame for car number, Visible carbon
8. Hood, Visible carbon
6 500

.00 €

9. Front fenders, 2pcs, Visible carbon
10. Front fender linings, 2 pcs. Visible carbon
11. Air ducts of the front fenders, 2 pcs, Visible carbon
12. Fuel tank flap, Visible carbon
13. Side skirts, bottom parts, 2 pcs, Visible carbon
14. Side skirts, top parts, 2 pcs, Visible carbon
15. Doors Visible carbon
16. Rear fenders, 2 pcs, Visible carbon
17. Air intakes of the rear fenders, 2 pcs, Visible carbon
18. Roof pillars , Visible carbon
19. Roof, Visible carbon
3 500

.00 €

20. Rear bumper, Visible carbon
21. Side air ducts of the rear bumper, 2 pcs, Visible carbon
22. Rear bumper diffuser, Visible carbon
23. Strap STINGER rear bumper, Visible carbon
24. Podium Rear spoiler, Visible carbon
25. Rear spoiler, Visible carbon
3 000

.00 €

26. Engine cover, Visible carbon
27. Set of the air vents of the engine, Visible carbon
28. Side mirrors Visible carbon
2 500

.00 €

AMOUNT for Carbon edition body kit
100 000

.00 €

Options
Titanium exhaust ( Akrapovic ) with black tips
8 125

.00 €

Option
Inconel exhaust ( Kline ) - Valvetronic silencer section
6 500

.00 €

Option
Inconel exhaust ( Kline ) - 100/200 cell HJS cat or decat pipespipe set 2 pcs.
2 200

.00 €

Option
Inconel exhaust ( Kline ) - Manifolds 2 pcs.
4 135

.00 €

Option
Exhaust ( Kline ) - carbon fiber tips 2 pcs.
1 100

.00 €

Option
The carbon edition from coloured carbon with variable colours ( Pagani or Koenigsegg alike )
25 000

.00 €

Option
Advanced interior exclusive options
50 000

.00 €

Option
Wheels
Forged wheels RS edition (set of 4 wheels) front: 20х9 ЕТ32 rear: 21х11.5 ЕТ51
9 600

.00 €

Option
Forged wheels Aero style (set of 4 wheels) front 20х9.5 ET33 rear 21х12 ET60
9 600

.00 €

Option
Forged wheels Aero style (set of 4 wheels) front 21х9.5 ET33 rear 22х12 ET60
10 800

.00 €

Option
Forged wheels Aero style Carbon Edition (set of 4 wheels) front 21х9.5 ET27 rear 22х12ET57
14 500

.00 €

Option