Tuning Mercedes GLE Wagon INFERNO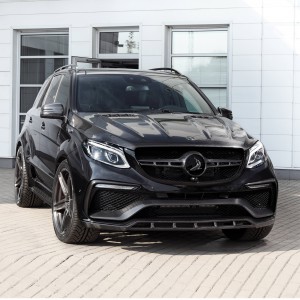 Show all
Tuning Mercedes-Benz GLE Wagon INFERNO
TOPCAR Company is pleased to introduce its new hit — GLE Wagon INFERNO. Traditionally, design of the aerodynamic body kit created in common with the factory key style. But INFERNO created more bold and aggressive, where the factory designers have been constrained by corporate constraints, TOPCAR's designers showed greater scope and boldness. The aggressive design of the front bumper, carbon fiber muscular hood, extended fenders, side air intakes, a rear bumper with a large diffuser — all this creates a rapid and energetic way of the SUV.
Technology is also interesting. Most of the elements of the body kit made of carbon fiber and Kevlar by vacuum forming. Since the car is equipped with multiple radars and sensors, the front and rear bumpers are made with the use of radio-transparent material on a similar technology, which is used in aviation.
Aerodynamic kit GLE Wagon INFERNO includes: front bumper with aerodynamic elements and diffuser, hood, expanders of the front and rear fenders, pads on the front fenders with logo, side skirts, pads on the front doors and pads with air intakes on the rear doors, rear bumper with air vents and diffuser. As there is a possibility to add a set of ultra-light forged wheels ADV.1. Aerodynamic body kit can be installed on any version of the GLE Wagon.
TOPCAR company's specialists offer individual designs of car interiors. We use the highest quality, expensive and rare materials — fine leather, crocodile leather, carbon, precious woods, gold 24K.
TOPCAR company has manufacturing facilities in Europe, North America, the Middle East and Asia.
Price list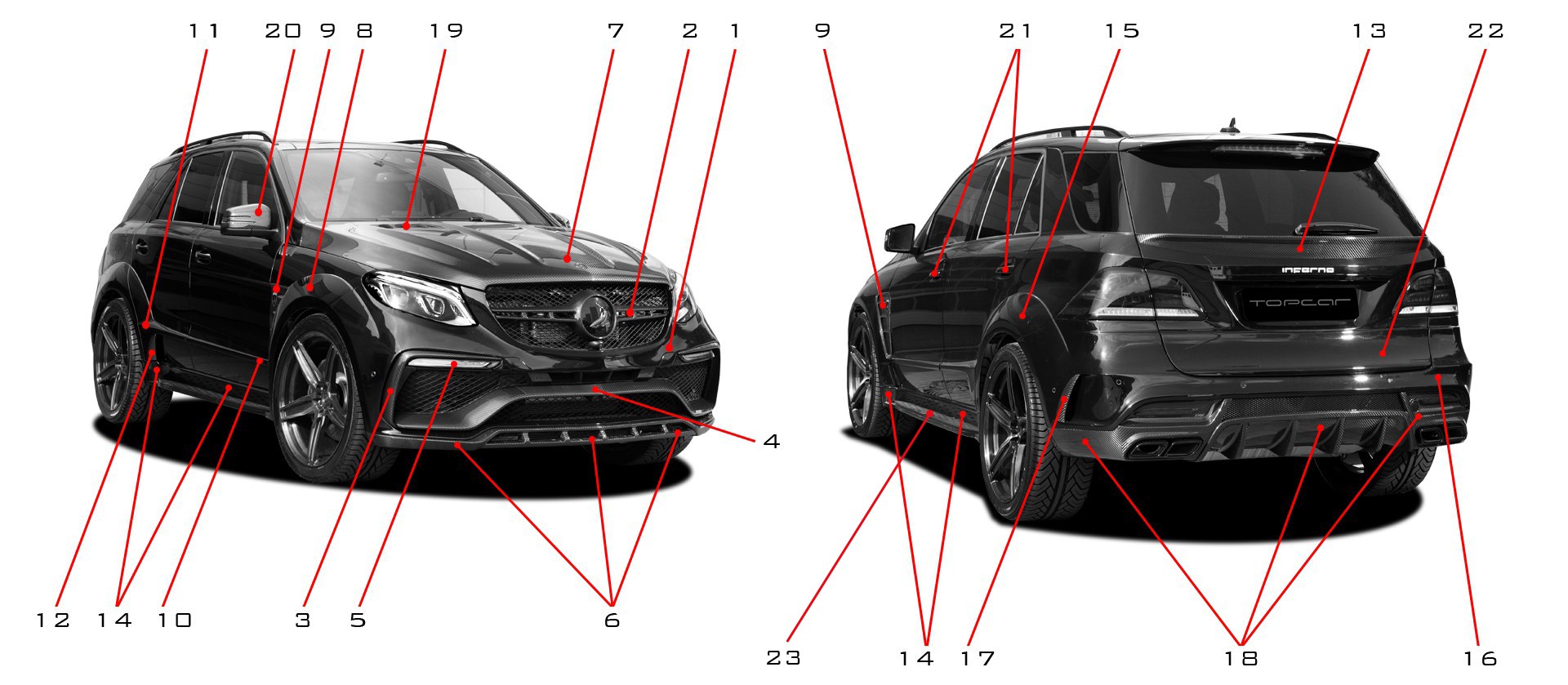 Title
Unit price
Body Kit without Carbon Parts €

17,395.00

Body Kit with Carbon Parts €

20,520.00

INFERNO body kit
1. Front bumper
3 400

.00 €

2. Grille under the stars TopCar design
335

.00 €

3. Inserting a front bumper 2 pieces
200

.00 €

4. Spoiler of front bumper center
600

.00 €

5. LED lights Front bumper 2 pieces
450

.00 €

6. Front lip
1 150

.00 €

7. Hood TopCar Design
3 500

.00 €

8. Front Fender Flares 2 pieces
840

.00 €

9. Lining on the front fenders with logo TopCar 2 pieces
375

.00 €

10. Door panels in the front door 2 pieces
240

.00 €

11. Door panels with air duct in the rear door 2 piece
1 100

.00 €

12. Insert into the lining on the rear doors 2 pieces
100

.00 €

13. Rear spoiler
600

.00 €

14. Side skirts top 2 pieces
1 750

.00 €

15. Fender extensions rear 2 pieces
840

.00 €

16. Rear bumper with air intakes
3 100

.00 €

17. Insert in the rear bumper 2 pieces
100

.00 €

18. Rear diffuser
1 500

.00 €

TOPCAR Logos, set (any colours)
120

.00 €

Wheel spacers, set
615

.00 €

Installation / Painting
4 500

.00 €

TopCar Design Logo (Shark)
500

.00 €

22. Pad on the rear door
315

.00 €

Carbon
2. Grille under the stars TopCar design, Lacquered carbon
900

.00 €

3. Inserting a front bumper 2 pieces, Lacquered carbon
700

.00 €

4. Spoiler of front bumper center, Lacquered carbon
1 200

.00 €

6. Front lip, Lacquered carbon
2 000

.00 €

7. Hood TopCar Design, Lacquered carbon
4 950

.00 €

9. Lining on the front fenders with logo TopCar, 2 pieces, Lacquered carbon
750

.00 €

12. Insert into the lining on the rear doors 2 pieces, Lacquered carbon
200

.00 €

13. Rear spoiler, Lacquered carbon
1 200

.00 €

17. Insert in the rear bumper 2 pieces, Lacquered carbon
400

.00 €

18. Rear bumper diffuser, Lacquered carbon
2 500

.00 €

19. Air ducts in the hood 2 pieces, Lacquered carbon
300

.00 €

20. Side mirrors 2 pieces, Lacquered carbon
600

.00 €

21. Door handles, top part 4 pieces, Lacquered carbon
970

.00 €

23. Inlay for side skirts, 2 pieces, Lacquered carbon
2 400

.00 €

Interior
Set of the pedals (3 pcs). Black.
350

.00 €

Set of the pedals (3 pcs). Aluminium.
350

.00 €

Set of the carpets INFERNO. Black.
400

.00 €

Set of the carpets INFERNO. Brown.
400

.00 €