Tuning Mercedes GLE Coupe INFERNO 2022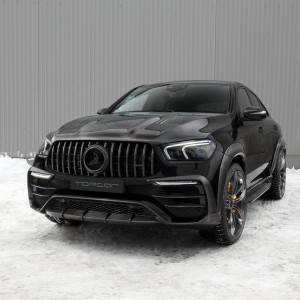 Show all
INFERNO tuning package by TopCar Design for MB GLE Coupe (2021–2022) is available for order and installation.
Carbon fiber aerodynamic body kit is made to emphasize the aggression of this car.
The bodykit includes front lip, front side splitters (4 pieces), led-lights, radiator grille trim with circles for TopCar emblem, front Shark logo, side skirts, fender extensions (10pieces), rear air outtake splitter, rear bumper diffuser, rear spoiler, mirror cover (2 pieces), engine bonnet.
Also we offer lightweight forged wheels from our catalog.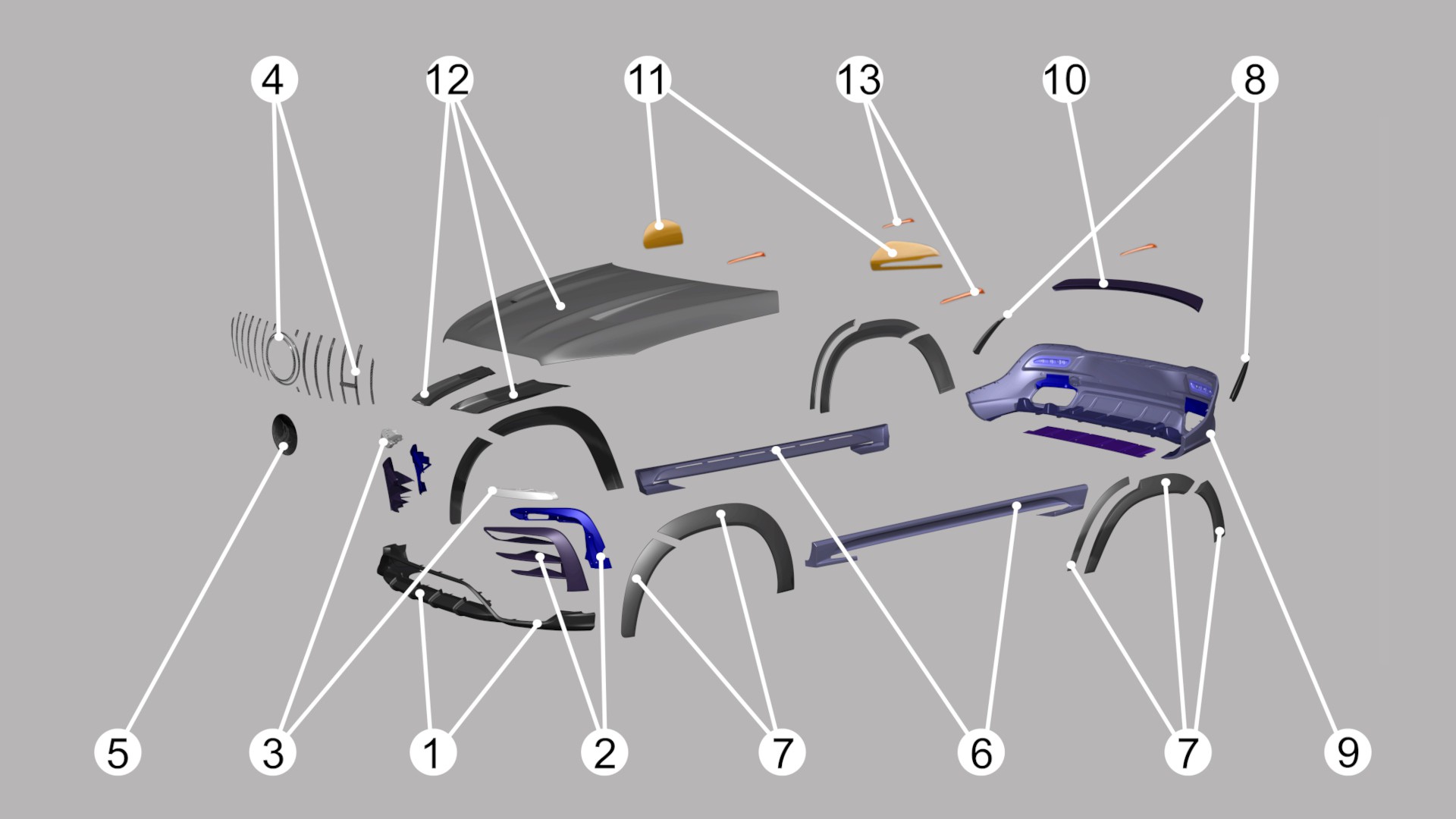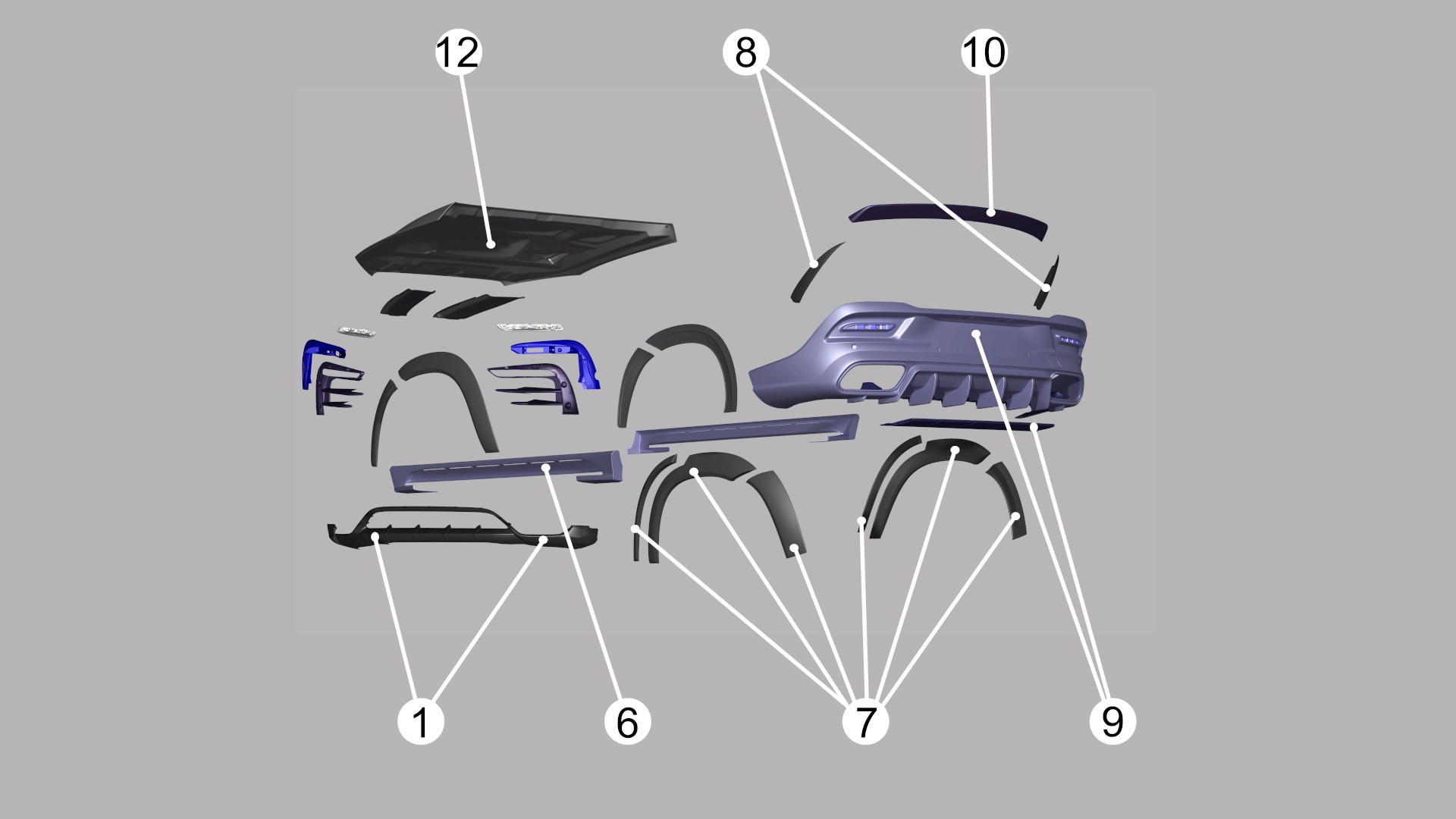 Title
Unit price
Visible carbon fiber
1. Front Lip (Visible carbon fiber)
3 200

.00 €

2. Front side splitter, left and right (Visible carbon fiber), 4pcs
1 000

.00 €

3. LED - lights, 2pcs
450

.00 €

4. Radiator grille trim + circles fro the emblem (Visible carbon fiber)
810

.00 €

5. Front Shark logo
500

.00 €

6. Side skirts (Visible carbon fiber), 2 pcs
3 550

.00 €

7. Fender extensions (Visible carbon fiber), 10 pcs
4 500

.00 €

8. Rear air outtake splitter (Visible carbon fiber), 2 pcs
510

.00 €

9. Rear bumper diffuser (Visible carbon fiber)
4 550

.00 €

10. Rear spoiler (Visible carbon fiber)
1 550

.00 €

11. Mirror cover (Visible carbon fiber), 2 pcs
1 000

.00 €

12. Engine bonnet (Visible carbon fiber)
6 500

.00 €

13. Door handles (Visible carbon fiber), 4 pcs
860

.00 €

TOTAL:
28 980

.00 €

Primed carbon (for painting)
1. Front Lip - Primed carbon (for painting)
2 500

.00 €

2. Front side splitter, left and right - Primed carbon (for painting), 4pcs
700

.00 €

3. LED - lights, 2pcs
450

.00 €

5. Front Shark logo
500

.00 €

6. Side skirts - Primed carbon (for painting), 2 pcs
2 500

.00 €

7. Fender extensions - Primed carbon (for painting), 10 pcs
3 350

.00 €

8. Rear air outtake splitter - Primed carbon (for painting), 2 pcs
360

.00 €

9. Rear bumper diffuser - Primed carbon (for painting)
3 450

.00 €

10. Rear spoiler - Primed carbon (for painting)
1 050

.00 €

12. Engine bonnet - Primed carbon (for painting)
5 200

.00 €

TOTAL:
20 060

.00 €

Wheels (fits all 2021-2022 GLE Coupe models)
Classic style forged wheels (22x10 PCD5x112, DIA66.6 ET30 22x11.5 PCD5x112, DIA66.6 ET18), 4 pcs
8 040

.00 €

Classic style forged wheels (23x10 PCD5x112, DIA66.6 ET30 23x11.5 PCD5x112, DIA66.6 ET18), 4 pcs
9 240

.00 €

Shark style 2.0 forged wheels (22x10 PCD5x112, DIA66.6 ET30 22x11.5 PCD5x112, DIA66.6 ET18), 4 pcs
8 040

.00 €

Shark style 2.0 forged wheels (23x10 PCD5x112, DIA66.6 ET30 23x11.5 PCD5x112, DIA66.6 ET18), 4 pcs
9 240

.00 €

Shark style forged wheels (22x10 PCD5x112, DIA66.6 ET30 22x11.5 PCD5x112, DIA66.6 ET18), 4 pcs
8 040

.00 €

Shark style forged wheels (23x10 PCD5x112, DIA66.6 ET30 23x11.5 PCD5x112, DIA66.6 ET18), 4 pcs
9 240

.00 €

Inferno style forged wheels (22x10 PCD5x112, DIA66.6 ET30 22x11.5 PCD5x112, DIA66.6 ET18), 4 pcs
8 040

.00 €

Inferno style forged wheels (23x10 PCD5x112, DIA66.6 ET30 23x11.5 PCD5x112, DIA66.6 ET18), 4 pcs
9 240

.00 €

Inferno Vision forged wheels (22x10 PCD5x112, DIA66.6 ET30 22x11.5 PCD5x112, DIA66.6 ET18), 4 pcs
12 684

.00 €

Inferno Vision forged wheels (23x10 PCD5x112, DIA66.6 ET30 23x11.5 PCD5x112, DIA66.6 ET18), 4 pcs
14 556

.00 €