Tuning Mercedes G63 4x4² Inferno
Mercedes-AMG G63 has become an iconic car worldwide and a very popular model for tuning. Inferno aerodynamic body kit from TopCar Design is one of the most popular models among the brand's customers.
For this reason, with release of the new Mercedes-AMG G 63 4×4², was made decision to create Inferno 4×4² carbon fiber aerodynamic body kit.
Factory version,originally, has some carbon fiber elements, however, TopCar Design company decided to make the car truly exclusive, so all elements of the new body kit are made entirely of carbon fiber. There are a lot of elements: front bumper with a diffuser and air ducts, center panel with grille and headlight covers, hood, front and rear fender extensions, side sills, front fender covers, rear bumper with diffuser, roof elements with a large cover for LED lights and spoiler, exclusive cover with TopCar Design emblem on the spare wheel. In addition, there is a large amount of detailing: moldings, door handles, turn signal frames and air ducts on the rear pillars. To complete this look, we offer brand-name forged rims with carbon elements as well.
Body kit is made of large weaving 4×4 twill carbon fiber, which makes exterior even more spectacular. Any shade and color of carbon fiber can be produced on special request.
Inferno body kit can also be made in the original Mercedes-Benz carbon fiber with a standard twill 2×2 weaving. In this case, customer can choose only those parts of the Inferno 4×4² that he needs and combine it with standard Mercedes-Benz carbon parts.
With this holistic approach, TopCar Design customers can create an unique configuration for their Mercedes-AMG G 63 4×4² and have a truly exclusive vehicle.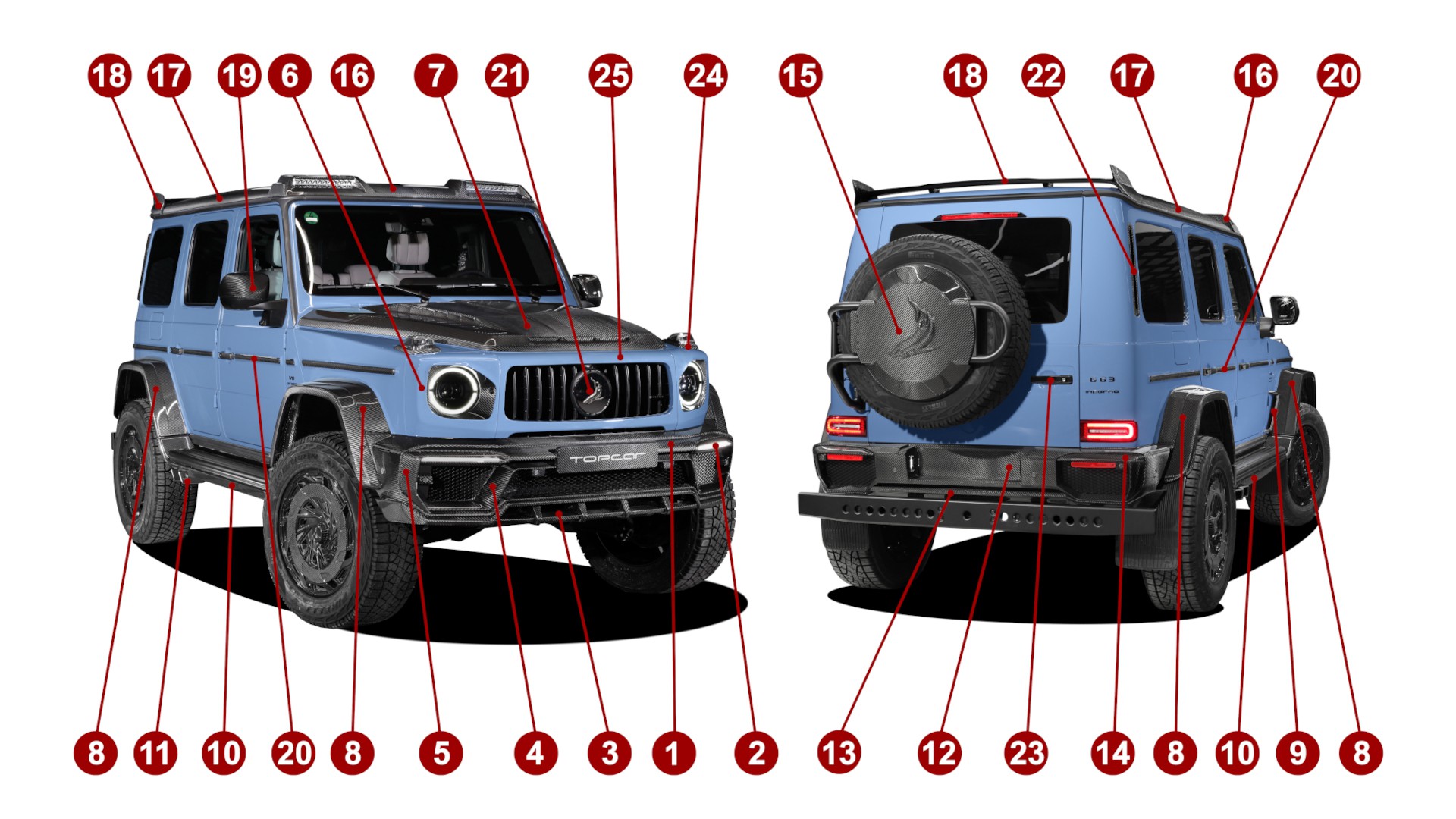 Title
Unit price
Mercedes G63 4x4 Inferno - carbon kit Twill 4x4
1. Front bumper with air intakes, visible carbon
5 700

.00 €

2. LED- lights, 2 pcs
1 200

.00 €

3. Front lip, visible carbon
1 800

.00 €

4. Front bumper spoiler, visible carbon
1 400

.00 €

5. Front side splitter, left and right, visible carbon
700

.00 €

6. Head light protection cover, 2 pcs, visible carbon
1 400

.00 €

8. Front and rear fender extensions, 8 pcs, visible carbon
7 500

.00 €

9. Side panel with Shark logo, 2 pcs, visible carbon
1 150

.00 €

10. Side sills, 6 pcs, visible carbon
4 000

.00 €

11. Exhaust tips, 4 pcs
1 800

.00 €

12. Rear bumper, visible carbon
4 650

.00 €

13. Addon diffuser, visible carbon
2 500

.00 €

14. Rear side splitter, left and right, visible carbon
700

.00 €

15. Spare wheel cover, visible carbon
2 000

.00 €

21. Shark logo cover
500

.00 €

TOTAL:
37 000

.00 €

Mercedes G63 4x4 Inferno, carbon kit Twill 4x4 - Options
7.1. Engine bonnet, visible carbon
7 500

.00 €

7.2. Engine bonnet, for painting
6 350

.00 €

16.1. Roof LED panel, visible carbon
2 600

.00 €

16.2. Roof LED panel, for painting
1 300

.00 €

17. Side roof panel,2 pcs, visible carbon
1 200

.00 €

18.1. Roof spoiler, visible carbon
3 250

.00 €

18.2. Roof spoiler, for painting
1 950

.00 €

19. Mirror covers, 2 pcs, visible carbon
1 300

.00 €

20. Side body trimbars cover, 10 pcs, visible carbon
1 300

.00 €

22. Rear C-Pillar cover, 2 pcs, visible carbon
500

.00 €

23. Door handles, 5 pcs, visible carbon
2 500

.00 €

24. Turn signal frames, 2 pcs, visible carbon
500

.00 €

25. Central panel, visible carbon
2 500

.00 €

Forged wheels inferno 4x4 style carbon (4 pcs)
14 500

.00 €

Interior parts set (Carbon Twill 2x2 or Carbon Twill 4x4)
3 570

.00 €

Interior parts set (Colored Carbon Twill 4x4 or Carbon Edition one)
4 500

.00 €

Mercedes G63 4x4 Inferno - carbon kit Twill 2x2
1. Front bumper with air intakes, visible carbon
5 700

.00 €

2. LED- lights, 2 pcs
1 200

.00 €

3. Front lip, visible carbon
1 800

.00 €

4. Front bumper spoiler, visible carbon
1 400

.00 €

5. Front side splitter, left and right, visible carbon
700

.00 €

6. Head light protection cover, 2 pcs, visible carbon
1 400

.00 €

9. Side panel with Shark logo, 2 pcs, visible carbon
1 150

.00 €

10. Side sills, 6 pcs, visible carbon
4 000

.00 €

11. Exhaust tips, 4 pcs
1 800

.00 €

12. Rear bumper, visible carbon
4 650

.00 €

13. Addon diffuser, visible carbon
2 500

.00 €

14. Rear side splitter, left and right, visible carbon
700

.00 €

15. Spare wheel cover, visible carbon
2 000

.00 €

21. Shark logo cover
500

.00 €

TOTAL:
29 500

.00 €

Mercedes G63 4x4 Inferno, carbon kit Twill 2x2 - Options
7.1. Engine bonnet, visible carbon
7 500

.00 €

7.2. Engine bonnet, for painting
6 350

.00 €

8. Front and rear fender extensions, 8 pcs, visible carbon
7 500

.00 €

16.1. Roof LED panel, visible carbon
2 600

.00 €

16.2. Roof LED panel, for painting
1 300

.00 €

17. Side roof panel,2 pcs, visible carbon
1 200

.00 €

18.1. Roof spoiler, visible carbon
3 250

.00 €

18.2. Roof spoiler, for painting
1 950

.00 €

19. Mirror covers, 2 pcs, visible carbon
1 300

.00 €

22. Rear C-Pillar cover, 2 pcs, visible carbon
500

.00 €

23. Door handles, 5 pcs, visible carbon
2 500

.00 €

24. Turn signal frames, 2 pcs, visible carbon
500

.00 €

25. Central panel, visible carbon
2 500

.00 €

Forged wheels inferno 4x4 style carbon (4 pcs)
14 500

.00 €

Interior parts set (Carbon Twill 2x2 or Carbon Twill 4x4)
3 570

.00 €

Interior parts set (Colored Carbon Twill 4x4 or Carbon Edition one)
4 500

.00 €