Tuning Mercedes AMG GT 4-Door Coupe INFERNO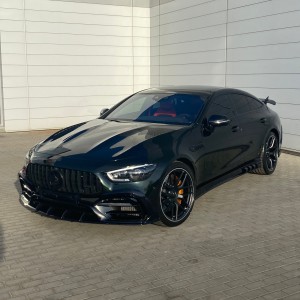 Show all
Mercedes-Benz AMG GT 63 S 4-Door Coupe INFERNO by TopCar Design.
The aerodynamic package for the impressive four-door coupe from Mercedes-Benz consists of more than 30 components and each element is made of several parts. Details made of carbon fiber emphasize the lines of the car, enhancing its sporty character and aggression and carry both a visual and technical component. For example, the the side skirts are made with air intakes, through which the air flow passes, which improves aerodynamics. You can choose to manufacture parts from the original Mercedes 2x2 Twill carbon fiber or 4x4 Twill carbon fiber with further coating or painting in color. The package of improvements can be installed in a complex or separately.
The first car is painted in the signature TopCar Design deep green color with a transition to a black shade on the roof. As for the body kit elements, they are presented in an exclusive black carbon fiber that plays in the light, hiding the structure when viewed from certain angles.
Additionally, we offer 3 models of super-light and strong forged wheels in 21 sizes: GT Style, Shark Style 2 and Fury Style.
Price list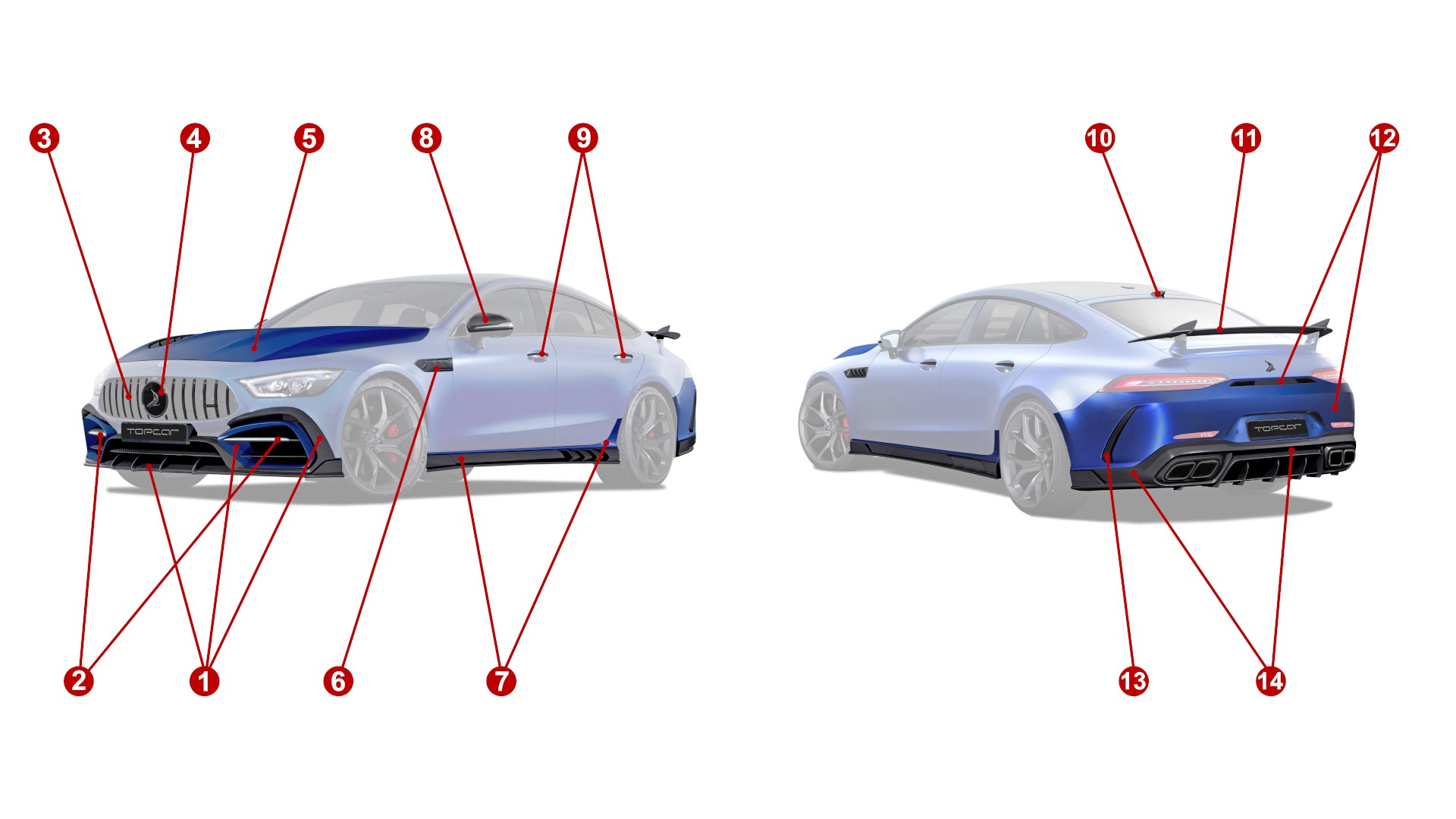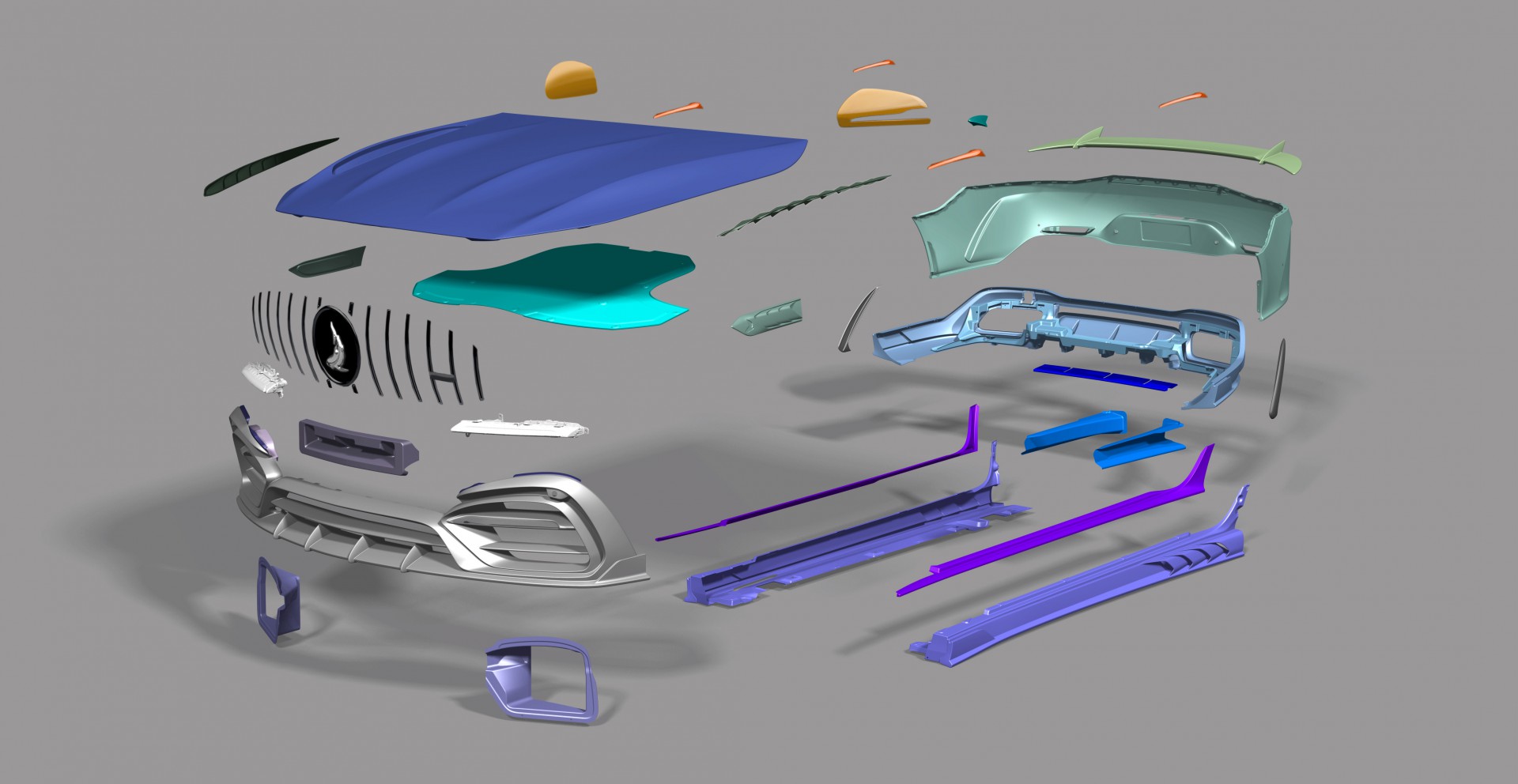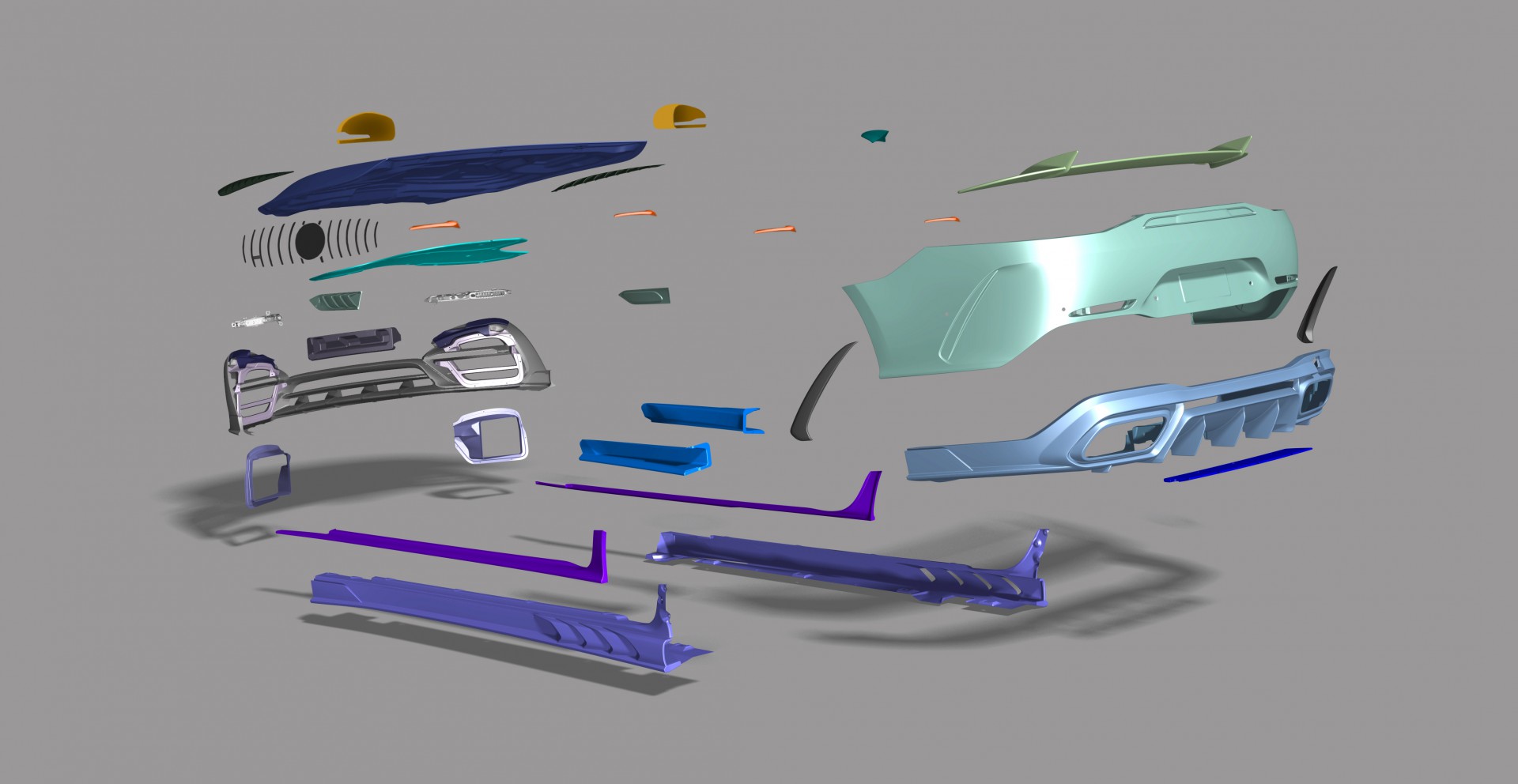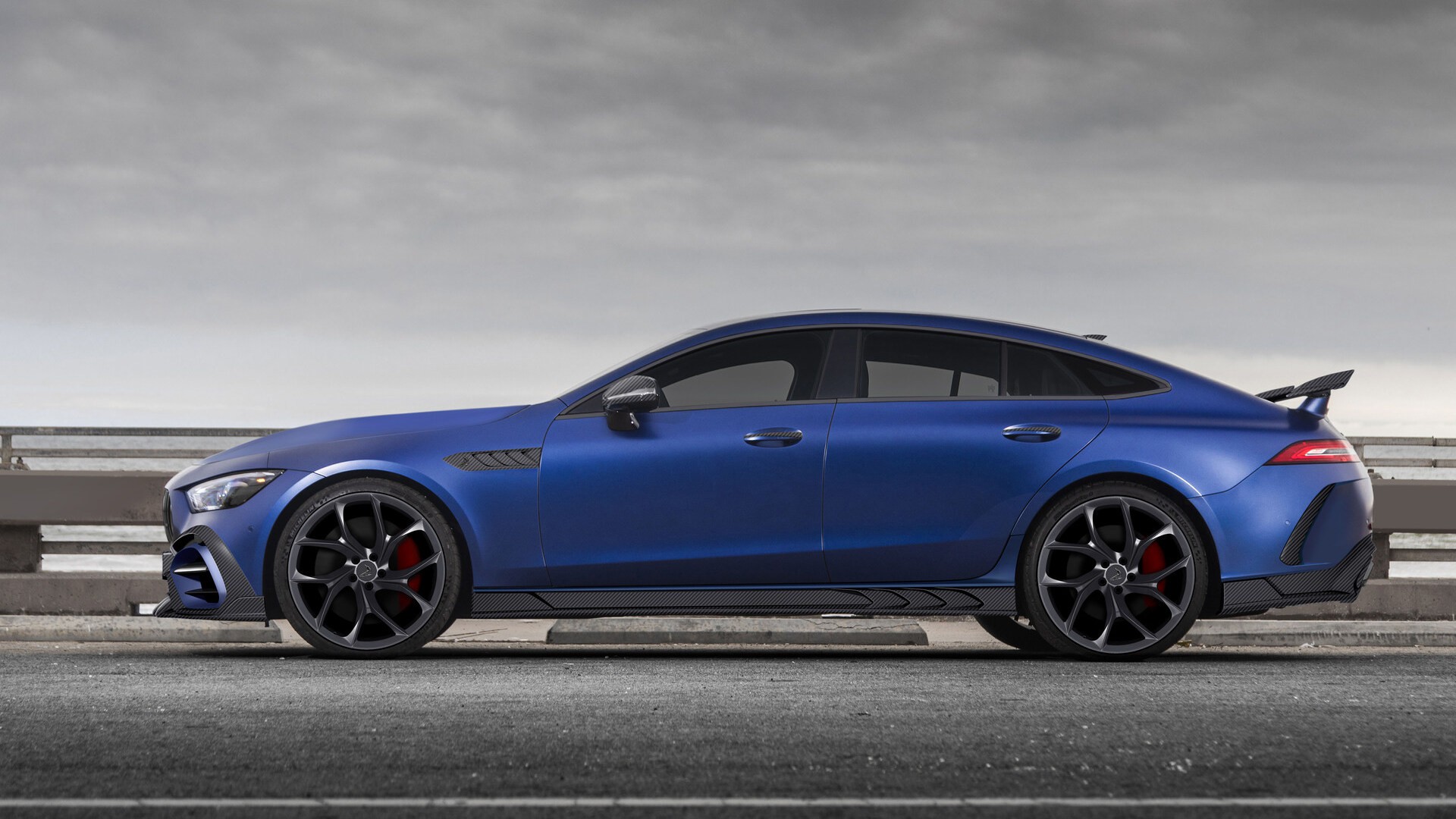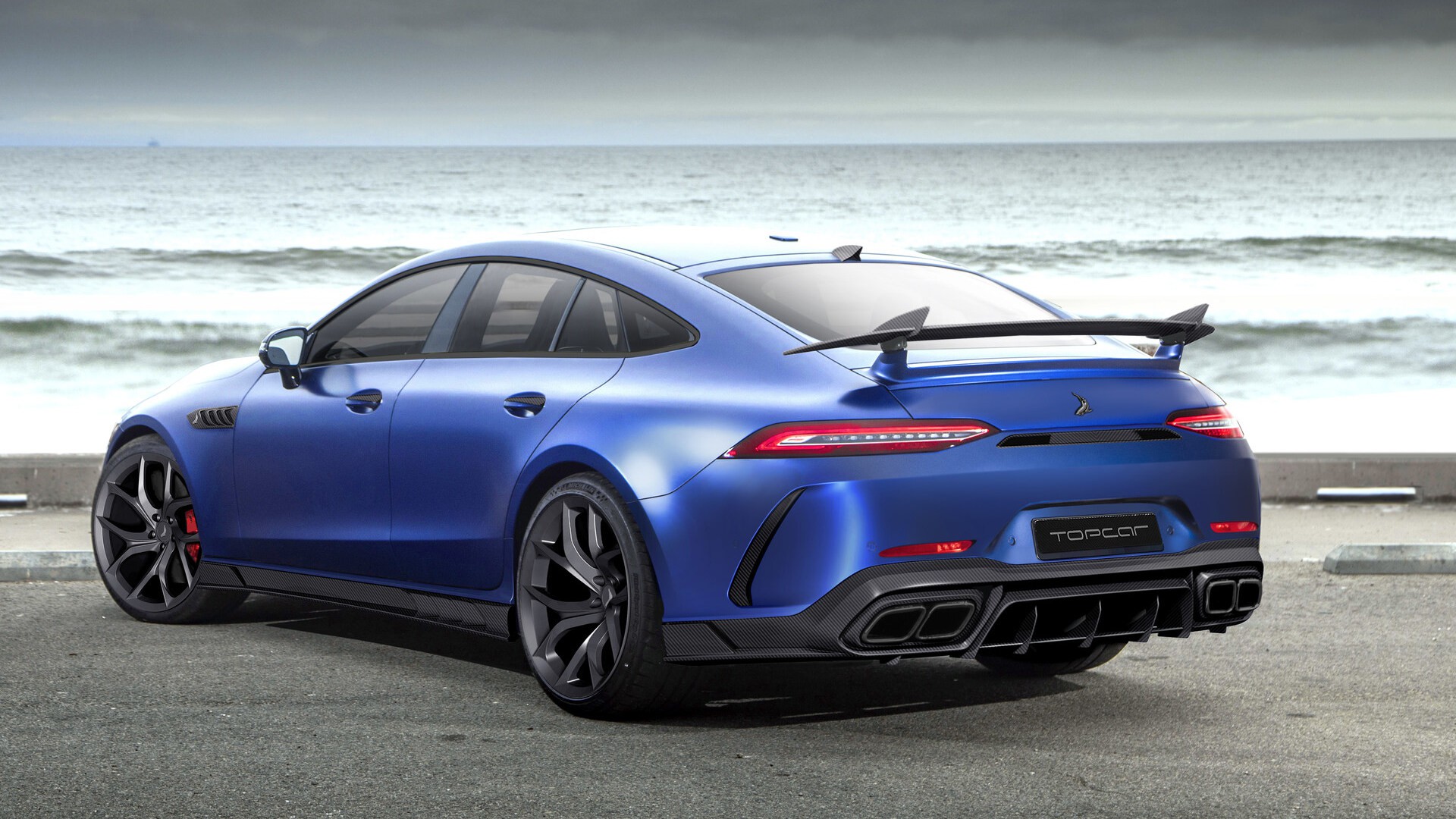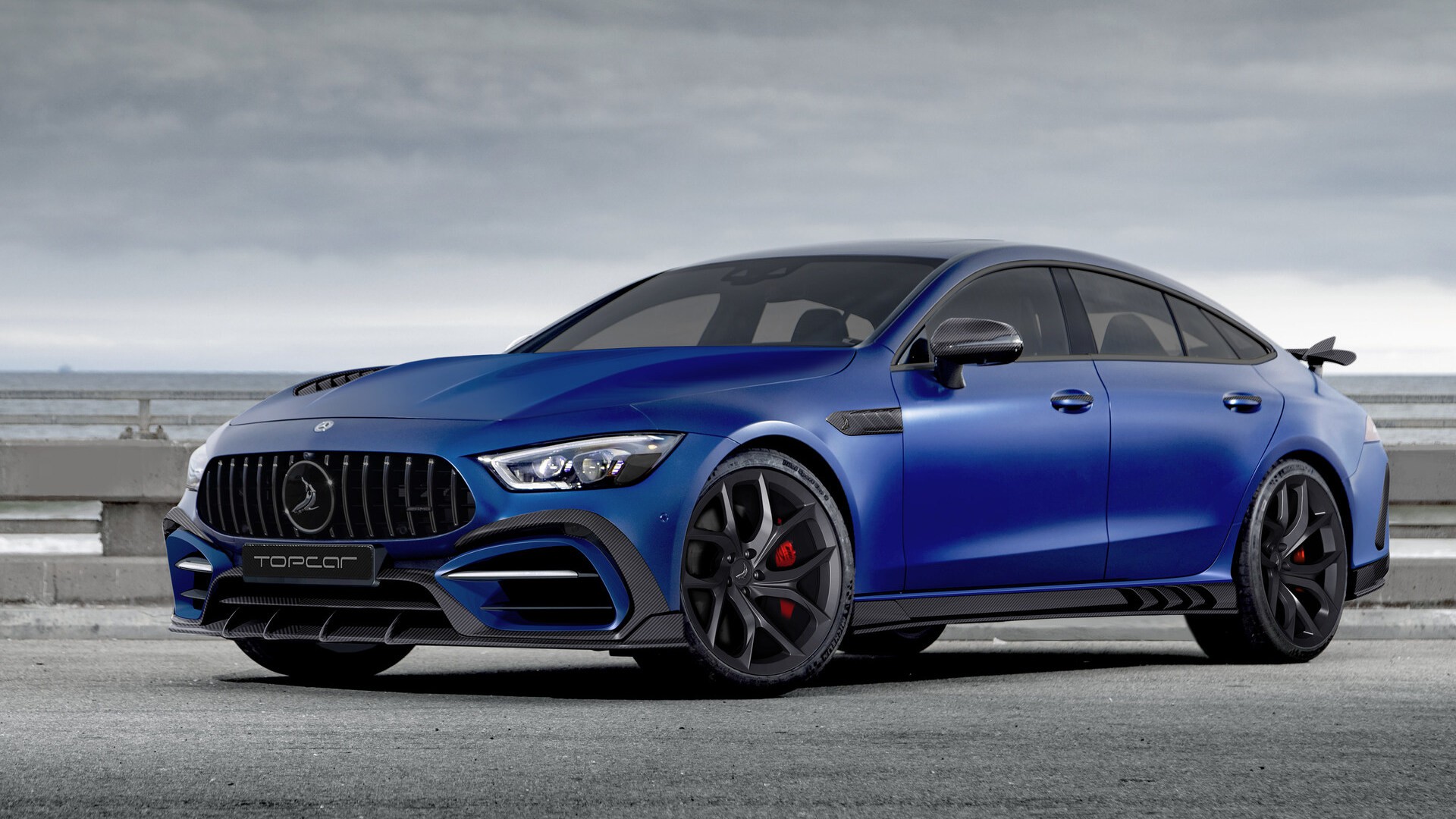 Title
Unit price
INFERNO body kit - VISIBLE CARBON FIBER
1. Front bumper splitter, multi-piece (visible carbon)
4 860

.00 €

2. LED lights, 2 pcs.
600

.00 €

3. Radiator grille trim + circle for the emblem (visible carbon)
710

.00 €

4. Emblem
500

.00 €

5. The hood is assembled from 4 parts (visible carbon)
6 630

.00 €

6. Front fenders emblem with Shark logo, 2 pcs. (visible carbon)
970

.00 €

7. Thresholds with air ducts from 6 elements (visible carbon)
3 880

.00 €

8. Side mirrors, 2 pcs. (visible carbon)
1 000

.00 €

9. Door handles, 4 pcs. (visible carbon)
860

.00 €

10. Shark fin (visible carbon)
300

.00 €

11. Spoiler Shark style (visible carbon)
1 830

.00 €

12. Rear bumper with carbon fiber intake (visible carbon)
2 000

.00 €

13. Air outtake splitter, 2 pcs. (visible carbon)
510

.00 €

14. Rear bumper diffuser, 2 pcs. (visible carbon)
3 200

.00 €

INFERNO body kit - FOR PAINTING
1. Front bumper splitter, multi-piece (primed carbon)
3 710

.00 €

2. LED lights, 2 pcs.
600

.00 €

4. Emblem
500

.00 €

5. The hood is assembled from 4 parts (primed carbon)
4 570

.00 €

6. Front fenders emblem with Shark logo, 2 pcs. (primed carbon)
740

.00 €

7. Thresholds with air ducts from 6 elements (primed carbon)
2 640

.00 €

10. Shark fin (primed carbon)
210

.00 €

11. Spoiler Shark style (primed carbon)
1 370

.00 €

12. Rear bumper with carbon fiber intake (primed carbon)
2 000

.00 €

13. Air outtake splitter, 2 pcs. (primed carbon)
380

.00 €

14. Rear bumper diffuser, 2 pcs. (primed carbon)
2 460

.00 €

Wheels
Forged wheels GT Style (set of 4 wheels) front: 21х10 ЕТ20 rear: 21х11.5 ЕТ25
6 700

.00 €

Shark Style 2 forged wheels (set of 4 wheels) front: 21х10 ЕТ20 rear: 21х11.5 ЕТ25
6 700

.00 €

Fury Style forged wheels (set of 4 wheels) front: 21х10 ЕТ20 rear: 21х11.5 ЕТ25
6 700

.00 €