Tuning McLaren 765 LT Spider Carbon Edition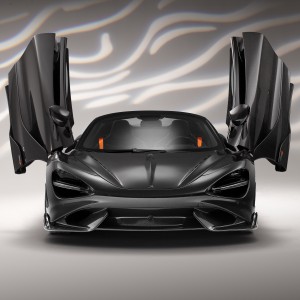 Show all
McLaren 765 LT Carbon Edition from TopCar Design.
The mid-engined English McLaren 765 LT hypercar made in modifications Coupe and Spider perfectly complement the model range of the British manufacturer and occupy a niche of really racing models, making worthy competition with Italian and German counterparts.
McLaren engineers have done a colossal job of creating a really beautiful body, as well as a technically and aerodynamically thought-out sports car as a whole.
In the project to create a set of McLaren 765 LT Carbon Edition aerodynamic body kit, TopCar Design specialists were faced with the task of making set of carbon body kit a reality, which will let preserve the aerodynamic, weight and all other technical characteristics of the beautiful McLaren 765 LT in its original form.
Created McLaren 765 LT Carbon Edition kit completely repeats the body parts of the original hypercar. Absolutely all the hinged body elements are replaceable by carbon parts and elements from TopCar Design, installation takes place on the regular spots of the car, all the fastening elements of the TopCar Design parts fully correspond to all the fasteners of the McLaren 765 LT standard parts.
In all the details and elements of the TopCar Design body kit, all the functional, weight, stylistic, structural and aerodynamic properties of standard McLaren parts are retained. Exception — is the carbon hood, made in TopCar Design stylistic, in which active air intakes are elegantly added without changing the characteristics of the standard hood and with the possibility of choosing the color of the camouflage of the reverse (underlay) part.
The McLaren 765 LT Carbon Edition set consists of more than 90 carbon parts and elements, by TopCar Design specialists tremendous work of creating a technologically and structurally thought-out kit have been done, it allows you to transform the standard McLaren 765 LT into a bright and exclusive hypercar that can surprise both with technical characteristics and individual, original appearance.
With TopCar Design, you can replace the usual and standard body elements with carbon parts, with a choice of carbon texture: Twill 2×2 (McLaren original carbon fiber), Twill 4×4 (Pagani Style) or exclusive Stealth Special Edition Carbon.
There is also an unique option: any of the proposed carbon fiber textures can be done with an individual selection of various color shades.
McLaren 765 LT Carbon Edition kit from TopCar Design is available for order in both Coupe and Spider modifications, both sets are installing without any additional design improvements, and if necessary, it takes no more than 3 days to return the car to its original factory condition.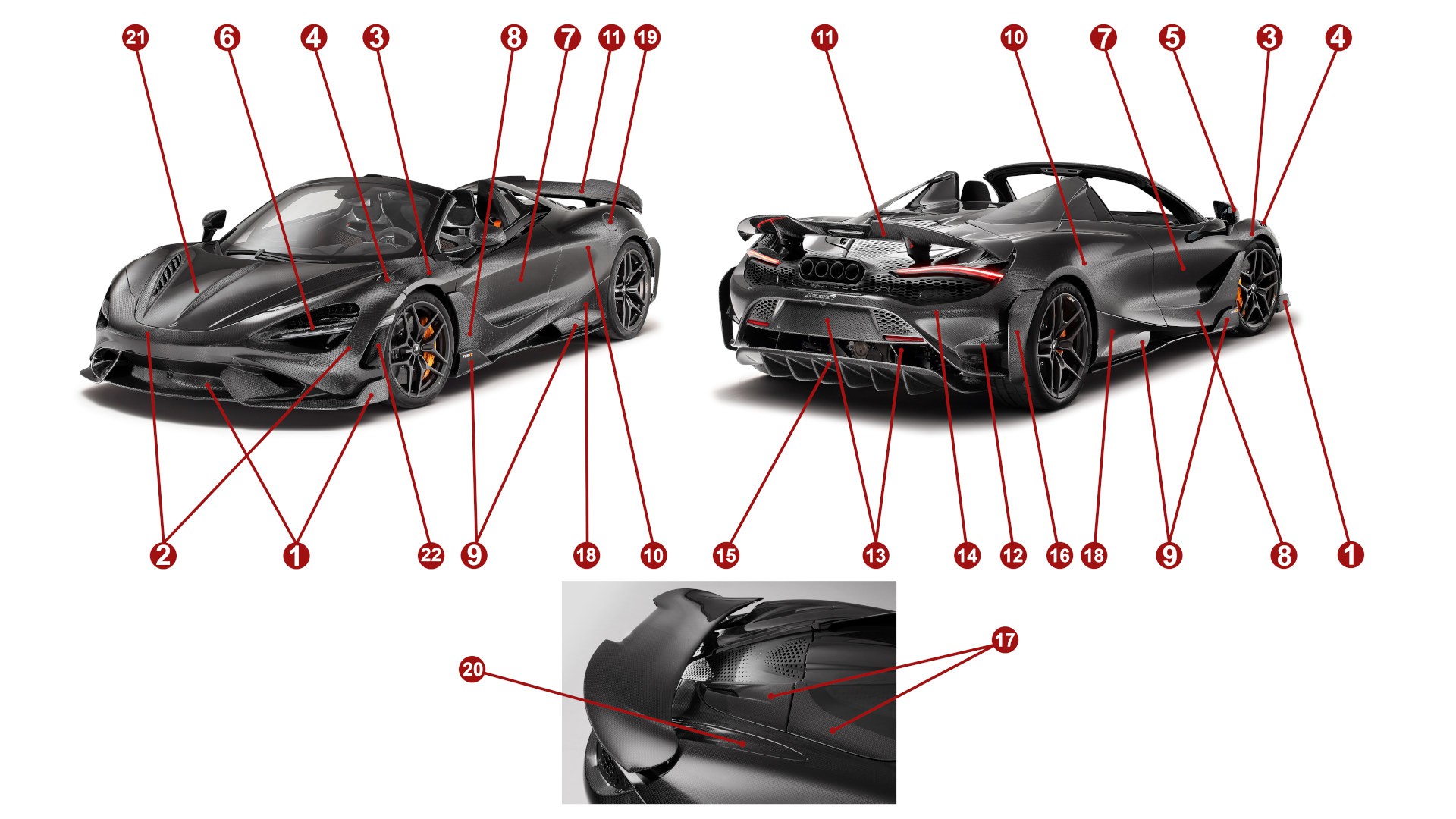 Title
Unit price
Body kit, visible carbon fibre glossy - Twill 2x2 (McLaren original carbon fiber) or Twill 4x4 (Pagani Style)
1. Front bumper splitter, central, 8 including elements, 1 full pc
7 400

.00 €

2. Front bumper, Visible carbon 5 including elements, 1 full pc
6 175

.00 €

3. Front Fenders, 2 pcs, Visible carbon
8 500

.00 €

4. Air ducts of the front fenders, 4 pcs, Visible carbon
750

.00 €

5. Side mirrors, Visible carbon, 2 pcs, 6 including elements
1 720

.00 €

6. Head light air vents, 2 pcs, 6 including elements
7 920

.00 €

7. Doors, 2 pcs , Visible carbon, 8 including elements
6 900

.00 €

8. Door Keel trim, 2 pcs, 4 including elements, Visible carbon
5 900

.00 €

9. Side skirts, bottom parts, 2 pcs, Visible carbon, 8 including elements
5 800

.00 €

10. Rear fenders, 6 including elements, 2 pcs, Visible carbon
10 450

.00 €

11. Perfomance wing, 1 pcs , Visible carbon, 3 including elements
5 450

.00 €

12. Rear bumper, side vents, 2 pcs , Visible carbon
2 000

.00 €

13. Center part with honeycomb for the Rear bumper, 1 pcs, Visible carbon
4 150

.00 €

14. Rear bumper, 1 pcs, Visible carbon, 3 including elements
6 350

.00 €

15. Rear bumper diffuser, 1 pcs, Visible carbon, 4 including elements
11 360

.00 €

16. Rear bumper side ailerons, 2 pcs, Visible carbon, 4 including elements
2 000

.00 €

17. Air outtake-engine bonnet, 4 pcs, Visible carbon
3 800

.00 €

18. Lower parts of the Rear fenders, 2 pcs, Visible carbon fiber, 4 including elements
4 000

.00 €

19. Fuel tank flap, Visible carbon, 1 pcs, 2 including elements
300

.00 €

20. Rear fenders, air intake, 2 pcs, Visible carbon, 4 including elements
2 800

.00 €

21. Hood, Visible carbon, 1 pcs, 5 including elements
7 920

.00 €

22. Front bumper air vents side, 2 pcs, Visible carbon
1 760

.00 €

TOTAL:
113 405

.00 €

Body kit, visible carbon fibre glossy - Stealth Special Edition or Colored carbon Twill 4x4
1. Front bumper splitter, central, 8 including elements, 1 full pc
9 250

.00 €

2. Front bumper, Visible carbon 5 including elements, 1 full pc
7 719

.00 €

3. Front Fenders, 2 pcs, Visible carbon
10 625

.00 €

4. Air ducts of the front fenders, 4 pcs, Visible carbon
938

.00 €

5. Side mirrors, Visible carbon, 2 pcs, 6 including elements
2 150

.00 €

6. Head light air vents, 2 pcs, 6 including elements
9 900

.00 €

7. Doors, 2 pcs , Visible carbon, 8 including elements
8 625

.00 €

8. Door Keel trim, 2 pcs, 4 including elements, Visible carbon
7 375

.00 €

9. Side skirts, bottom parts, 2 pcs, Visible carbon, 8 including elements
7 250

.00 €

10. Rear fenders, 6 including elements, 2 pcs, Visible carbon
13 031

.00 €

11. Perfomance wing, 1 pcs , Visible carbon, 3 including elements
6 813

.00 €

12. Rear bumper, side vents, 2 pcs , Visible carbon
2 500

.00 €

13. Center part with honeycomb for the Rear bumper, 1 pcs, Visible carbon
5 188

.00 €

14. Rear bumper, 1 pcs, Visible carbon, 3 including elements
7 937

.00 €

15. Rear bumper diffuser, 1 pcs, Visible carbon, 4 including elements
14 200

.00 €

16. Rear bumper side ailerons, 2 pcs, Visible carbon, 4 including elements
2 500

.00 €

17. Air outtake-engine bonnet, 4 pcs, Visible carbon
4 750

.00 €

18. Lower parts of the Rear fenders, 2 pcs, Visible carbon fiber, 4 including elements
5 000

.00 €

19. Fuel tank flap, Visible carbon, 1 pcs, 2 including elements
375

.00 €

20. Rear fenders, air intake, 2 pcs, Visible carbon, 4 including elements
3 500

.00 €

21. Hood, Visible carbon, 1 pcs, 5 including elements
9 900

.00 €

22. Front bumper air vents side, 2 pcs, Visible carbon
2 200

.00 €

TOTAL:
141 726

.00 €

Options
23. Door sills, pcs, Visible carbon Twill 2x2 or Twill 4x4
3 960

.00 €