Tuning McLaren 720S Fury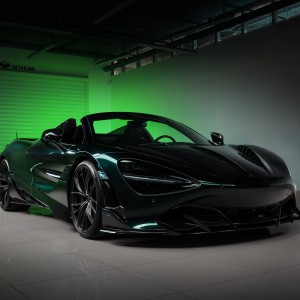 Show all
720S Fury: British open mid-motor with an individual carbon body kit In 2011, following a prolonged absence, McLaren returning to the mid-motor sports car market with the MP4-12C, which became known simply as the 12C. This model, initially available as a coupé and subsequently also as a spider, instantly punched through against its Italian competitors. The same applies to the new successor to the 12C, the 720S – also available as both a coupé and a spider. The Russian specialists at TopCar Design have now developed an extensive, high-quality body kit for this powerful sportster, which clocks in at 720 hp and 770 Nm of torque. Its name, "Fury", is certainly a fitting choice given the McLaren's extreme, furious aesthetic since the refurb.
The kit comprises 50 components and the first finished specimen, a 720S Spider, features the even more exclusive Stealth Edition. All components are made from carbon fiber and, as TopCar refrained from adding a colored coating, the material's gray fibrous structure comes to the fore, providing an awesome contrast to the dark-green paint job on the body. The nose has been fitted with a front skirt insert, a mount for the combined spotlight/air scoop, a multi-piece spoiler lip and a new front panel with gills to either side.
The side attachments are particularly extensive, reaching almost up to the beltline in places. The modifications to the rear include a diffuser, trims for the covers over the eight-cylinder engine and skirt insights, plus a rear wing with two striking fins – a reference to the TopCar logo, which depicts a shark. The forged TopCar Fury style rims measuring 9x20" and 11.5x21" and high-performance tires measuring 255/30ZR20 and 325/25ZR21 complement the new design perfectly.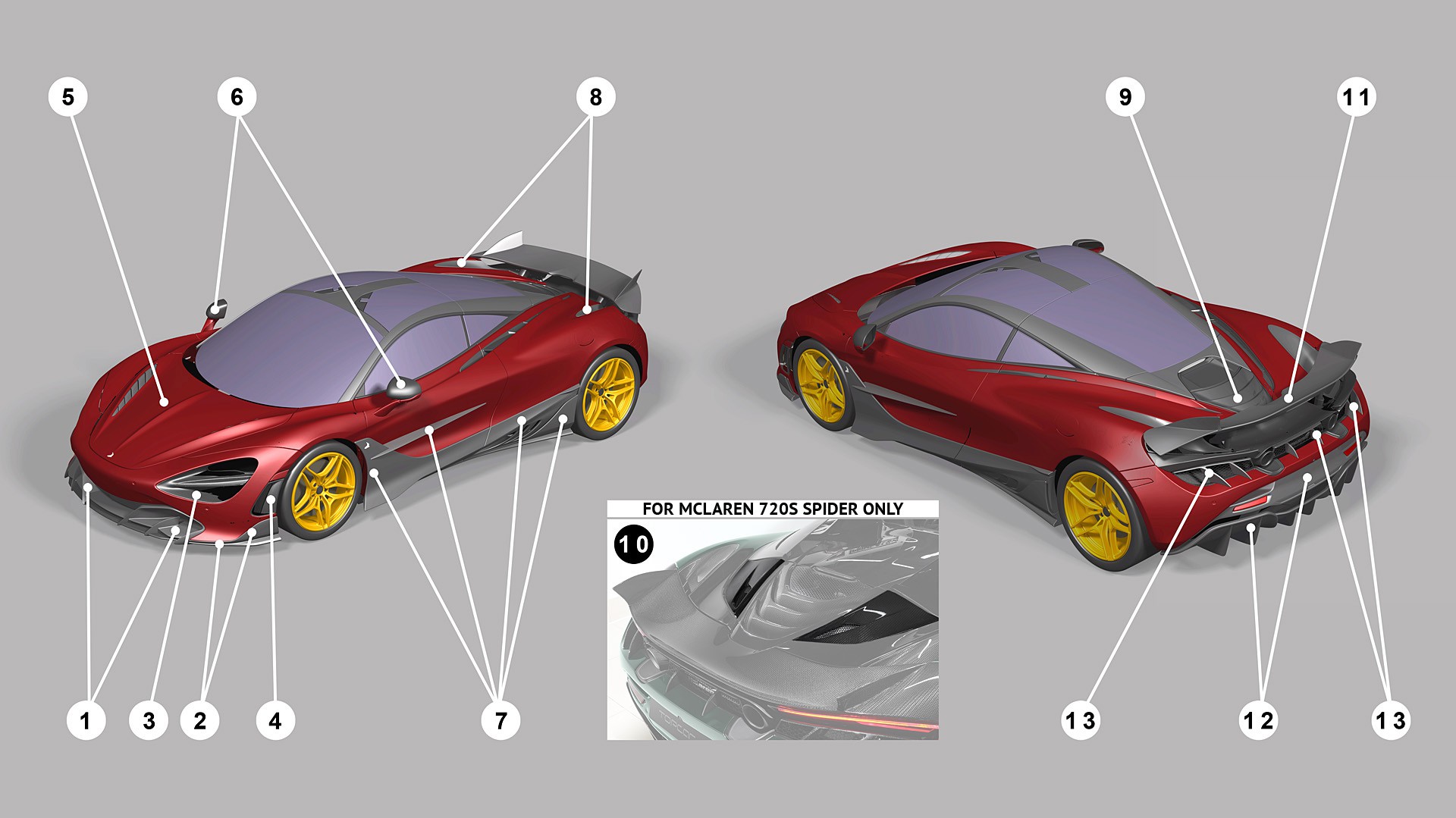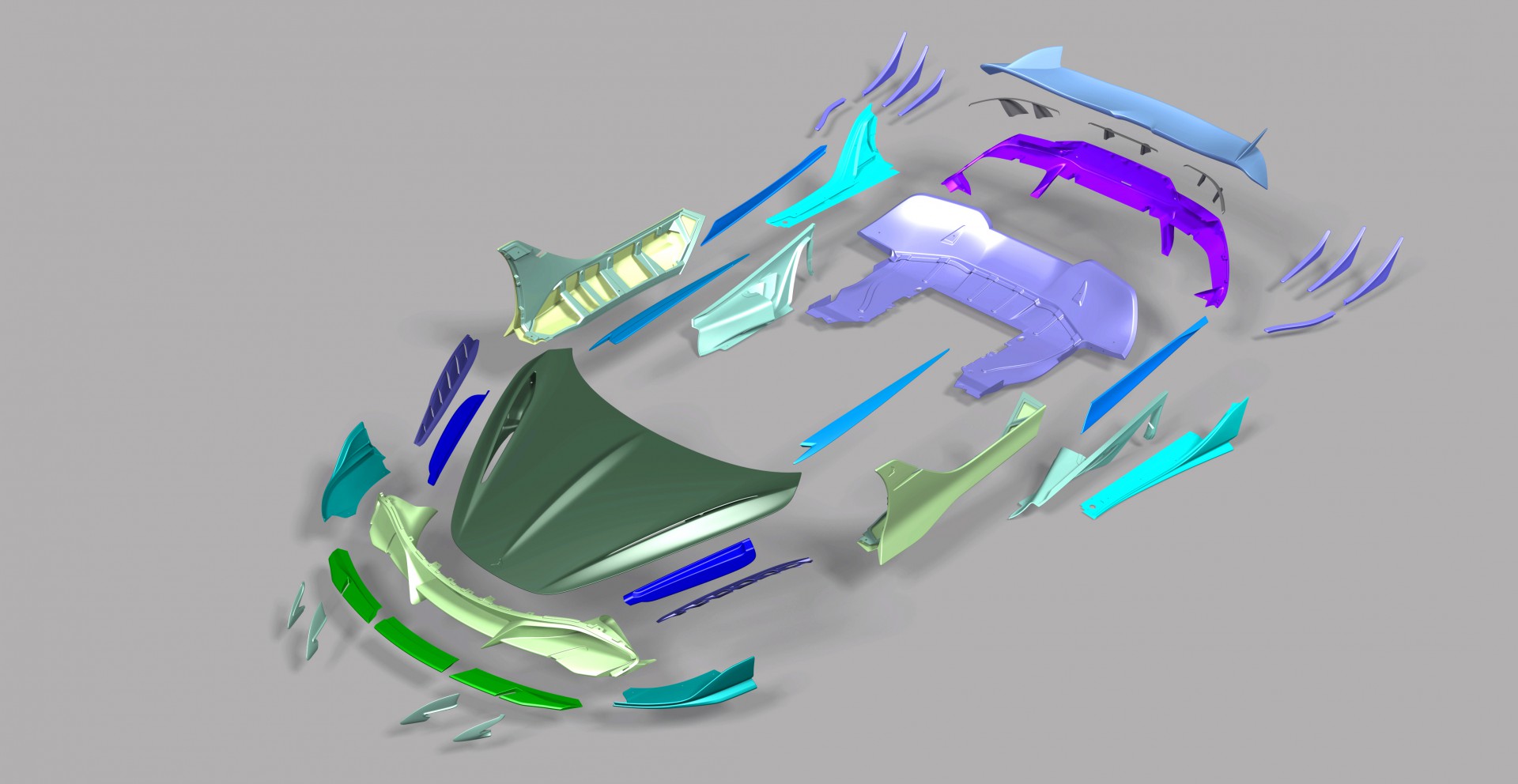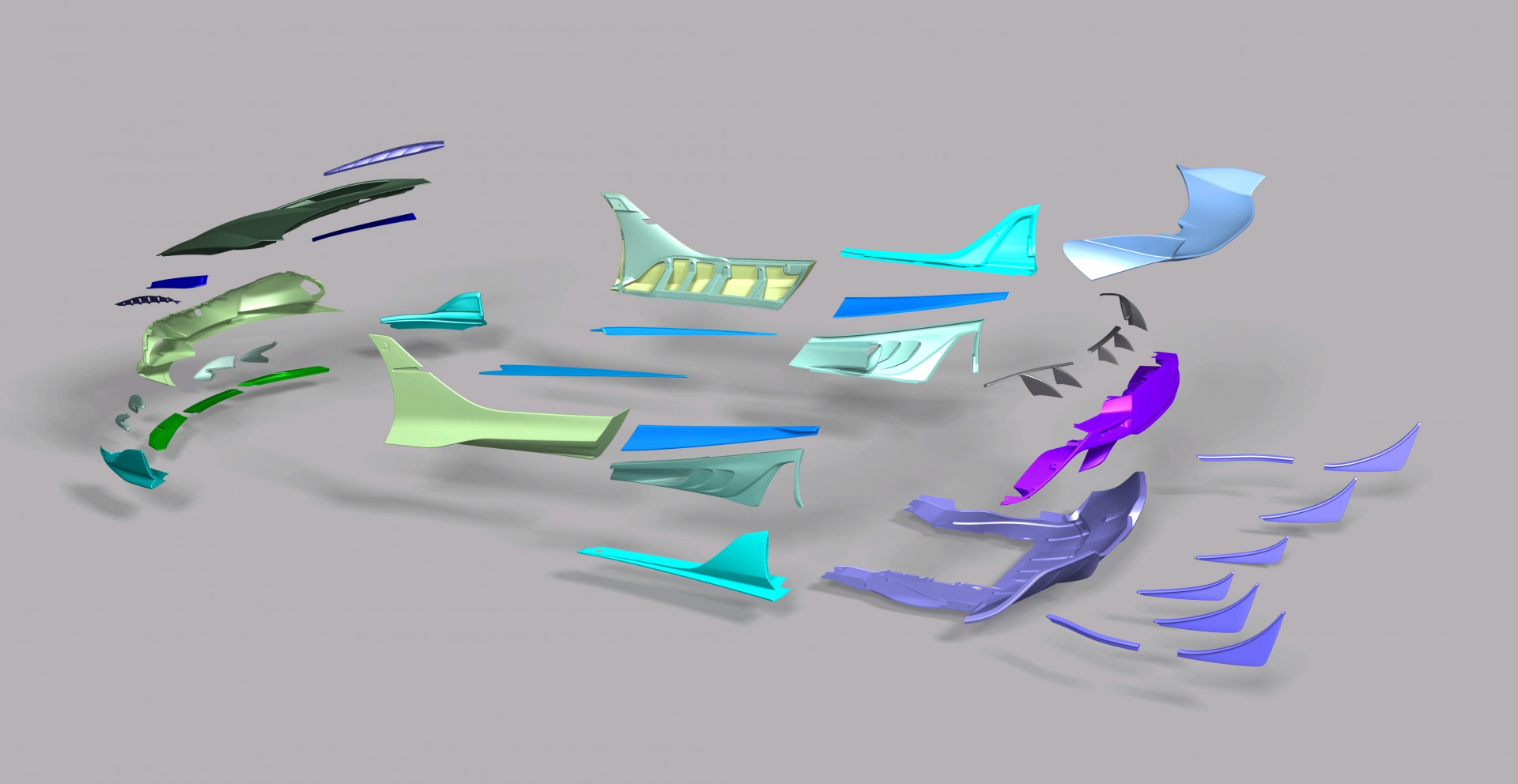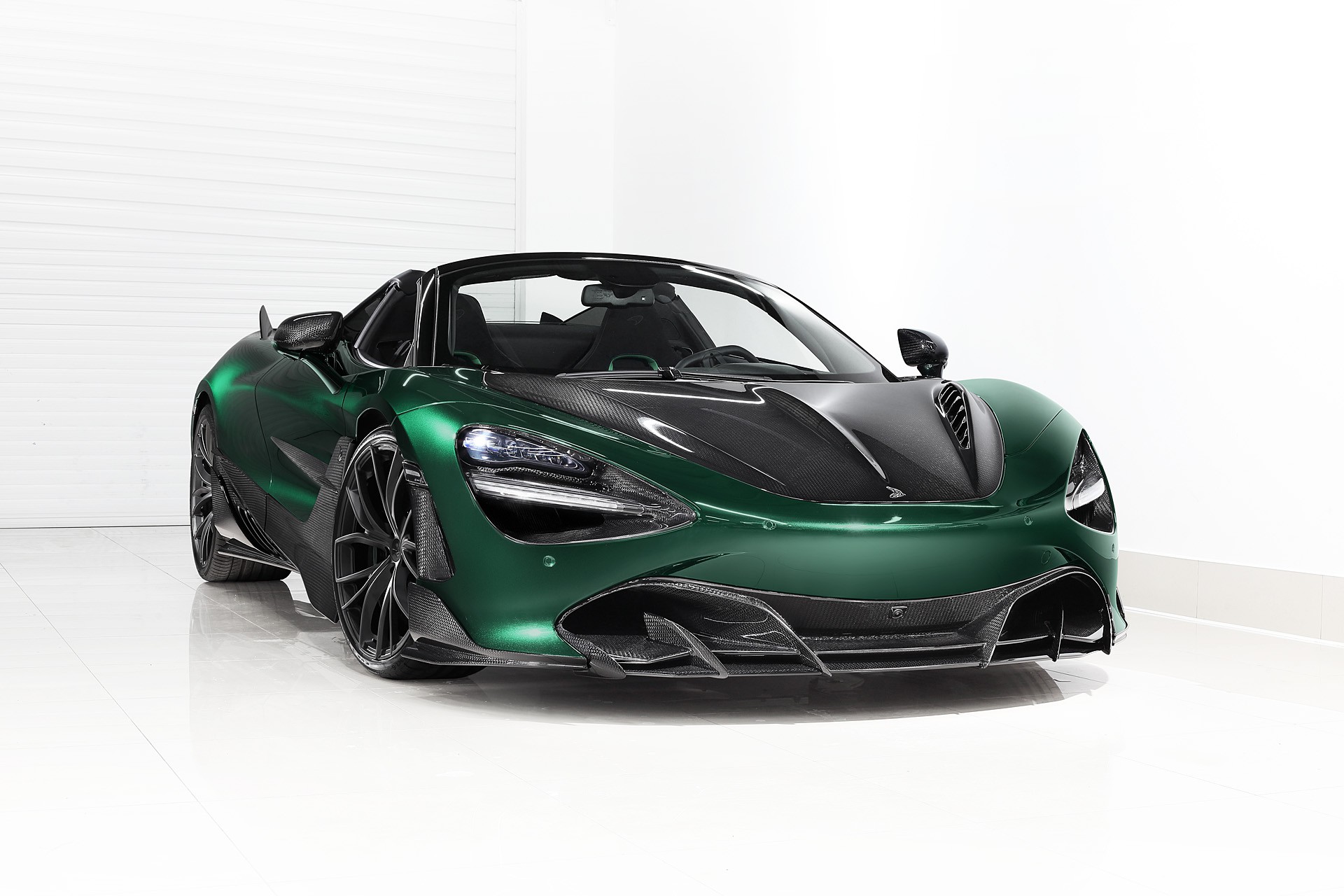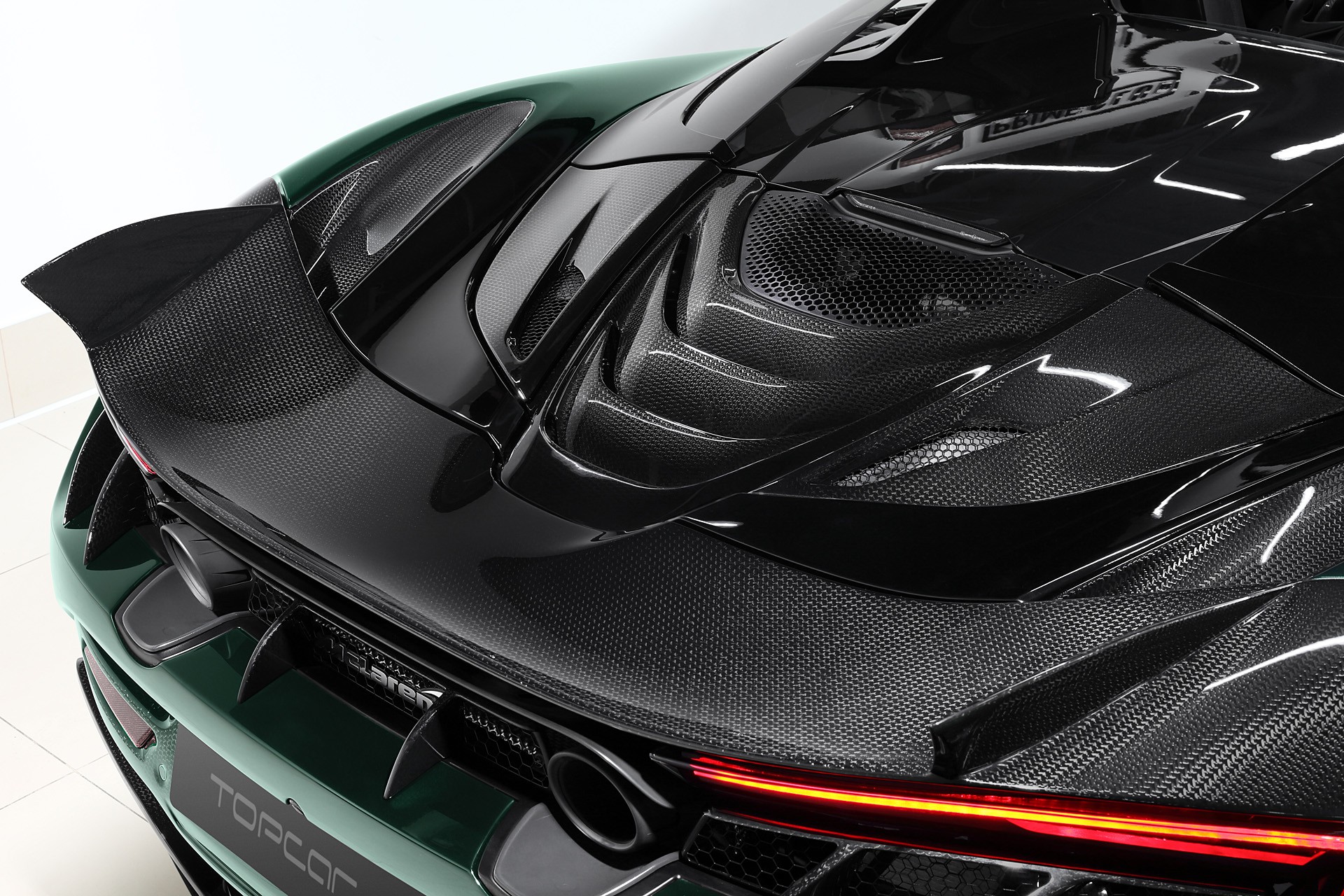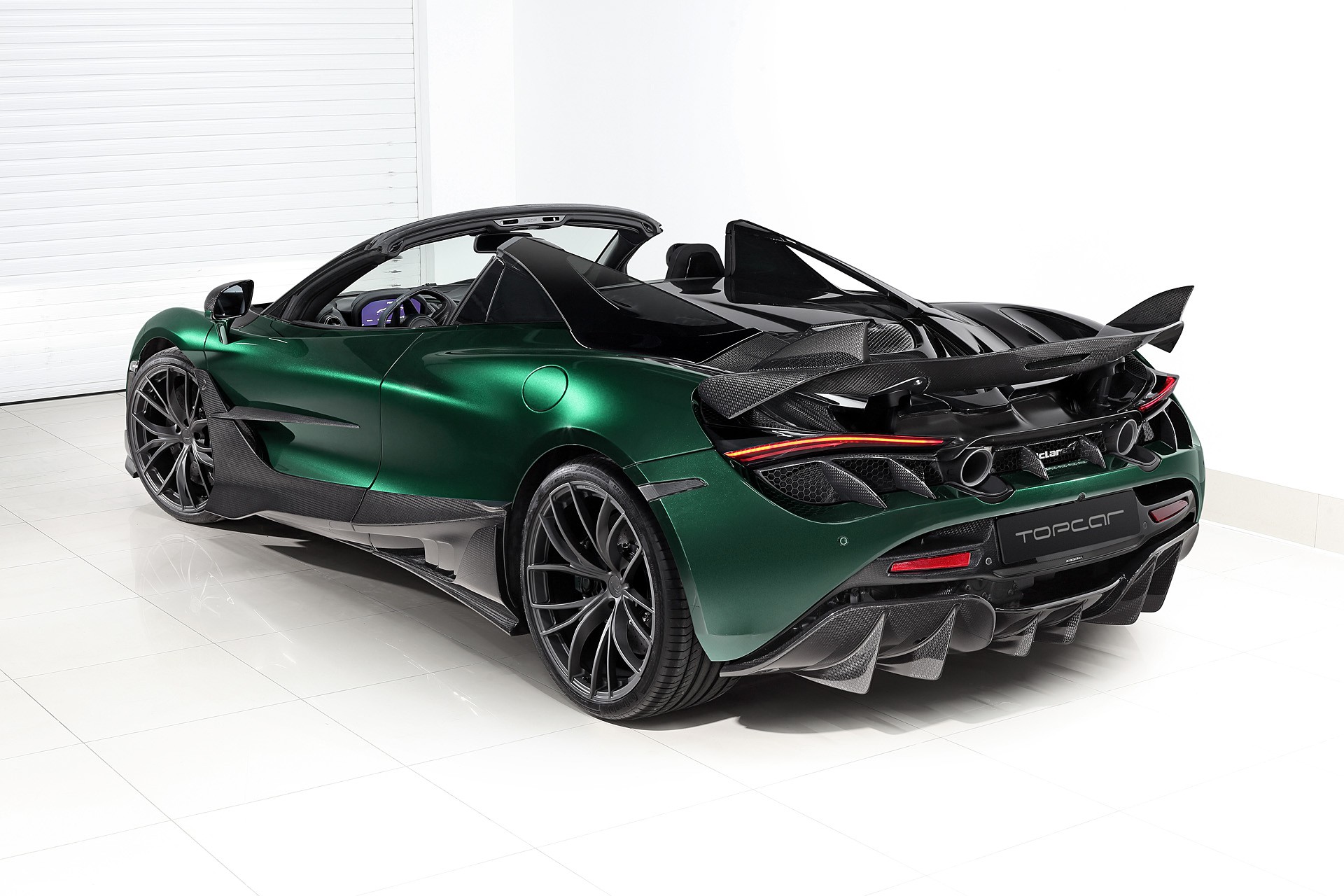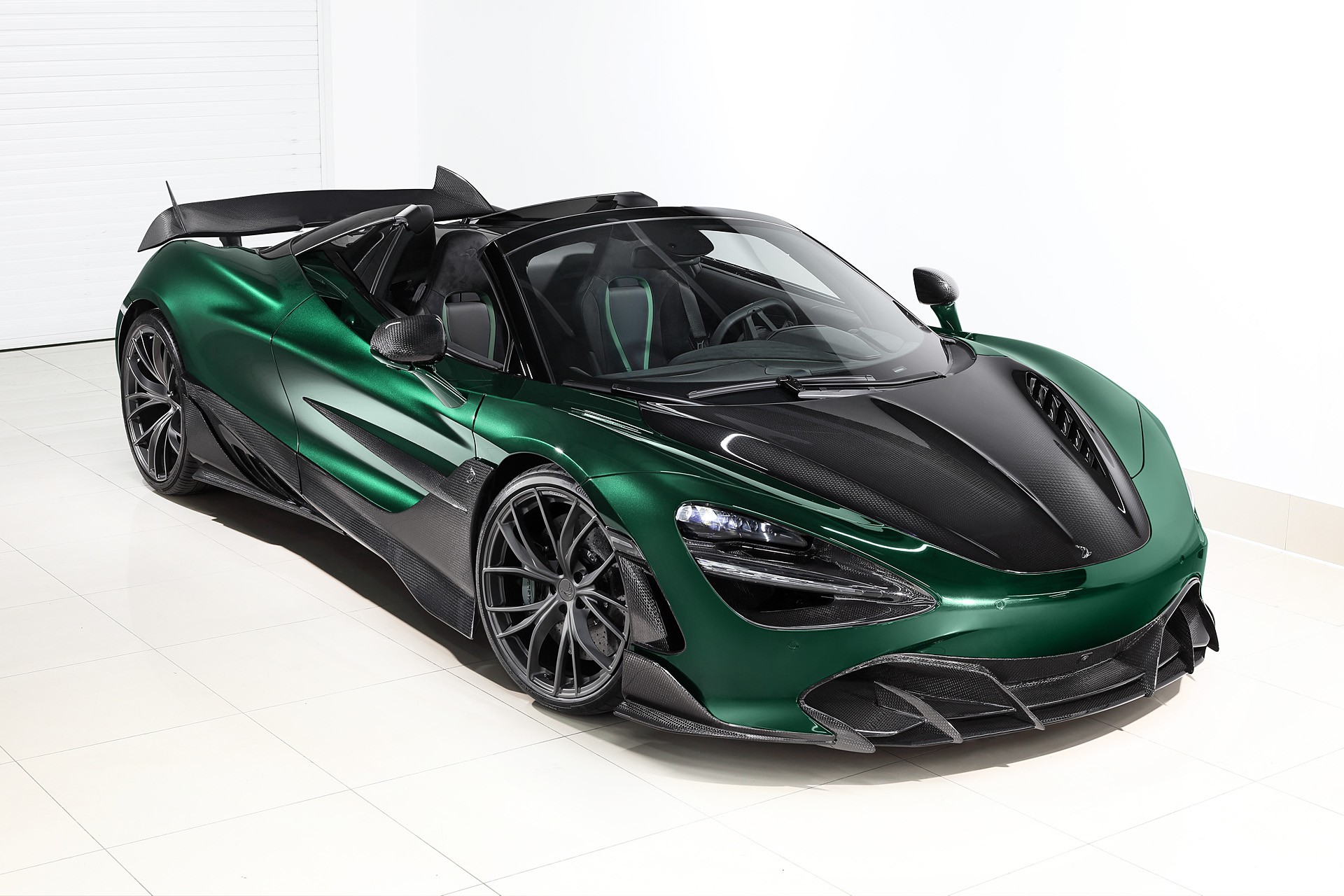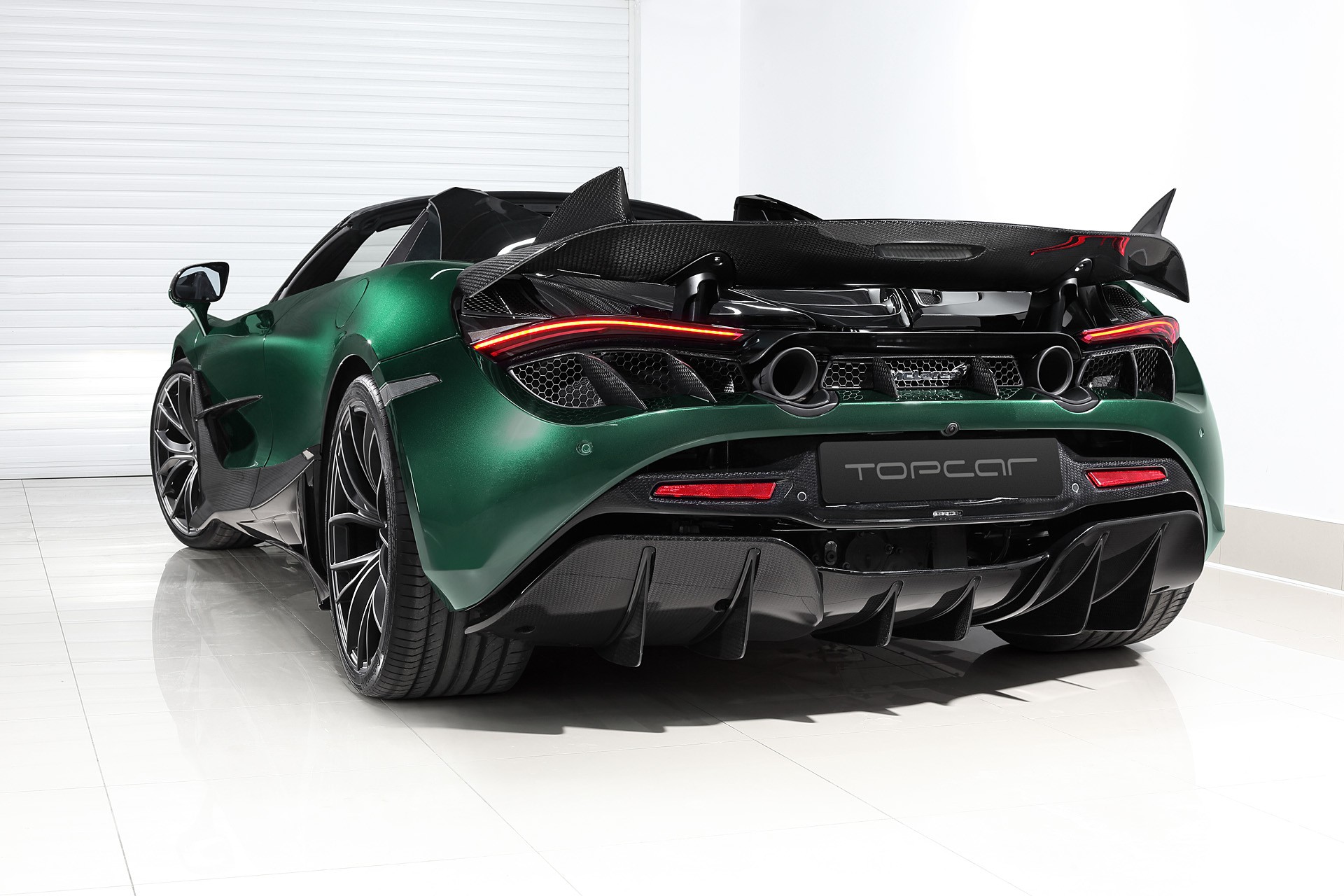 Title
Unit price
Fury body kit, visible carbon fibre glossy - Twill 2x2 (McLaren original carbon fiber) or Twill 4x4 (Pagani Style)
1. Front bumper splitter, central, 8 including elements, 1 full pc
8 400

.00 €

1.1 Stock bumper splitter, central, 1 full pc
5 000

.00 €

2. Front bumper splitter, side, 2 pcs
2 400

.00 €

3. Head light air vents, 2 pcs
3 200

.00 €

4. Front bumper air vents, side, 2 pcs
1 760

.00 €

5.1. Hood, visible carbon fiber, 6 including elements, 1 full pc
7 920

.00 €

5.2. Hood, for painting, 6 including elements, 1 full pc
5 320

.00 €

6. Side mirrors, 2 pcs
1 720

.00 €

7. Side set, a group of lining elements on doors, fenders and sills 10 pcs
12 400

.00 €

8. Rear fender air intake, 2 pcs
2 800

.00 €

9. Engine cover, 1 pc
2 800

.00 €

9.1 Engine cover Coupe, 1 pc
2 800

.00 €

10. Air outtake - engine bonnet, 2 pcs
2 400

.00 €

11. Performance wing, 1 pc
5 450

.00 €

12. Central part + diffuser of the rear bumper, a group of elements, 10 pcs
13 360

.00 €

12.1 Diffuser for the stock rear bumper, 10 pcs
8 360

.00 €

13. Rear air outtake grill cover, 3 pcs
2 000

.00 €

Total (full kit with options)
66 610

.00 €

Fury body kit, visible carbon fibre glossy - Stealth Special Edition
1. Front bumper splitter, central, 8 including elements, 1 full pc
10 500

.00 €

1.1 Stock bumper splitter, central, 1 full pc
6 250

.00 €

2. Front bumper splitter, side, 2 pcs
3 000

.00 €

3. Head light air vents, 2 pcs
4 000

.00 €

4. Front bumper air vents, side, 2 pcs
2 200

.00 €

5.1. Hood, visible carbon fiber, 6 including elements, 1 full pc
9 900

.00 €

5.2. Hood, for painting, 6 including elements, 1 full pc
5 320

.00 €

6. Side mirrors, 2 pcs
2 150

.00 €

7. Side set, a group of lining elements on doors, fenders and sills 10 pcs
15 500

.00 €

8. Rear fender air intake, 2 pcs
3 500

.00 €

9. Engine cover, 1 pc
3 500

.00 €

9.1 Engine cover Coupe, 1 pc
3 500

.00 €

10. Air outtake - engine bonnet, 2 pcs
3 000

.00 €

11. Performance wing, 1 pc
6 813

.00 €

12. Central part + diffuser of the rear bumper, a group of elements, 10 pcs
16 700

.00 €

12.1 Diffuser for the stock rear bumper, 10 pcs
10 450

.00 €

13. Rear air outtake grill cover, 3 pcs
2 500

.00 €

Total (full kit with options)
83 262

.00 €

Installation
installation works
6 000

.00 €

Wheels
Fury Style - forged rims set, front 9Jx20H2 ET 40 mm, Concave 49 mm, rear 11.5Jx21H2, ET 30 mm, Concave 86.5 mm
8 040

.00 €

Tyre sizes 255/30 R20, 325/30 R21
Options
Door sills, pcs, Visible carbon Twill 2x2 or Twill 4x4
3 960

.00 €