Tuning Lamborghini URUS S
TopCar Design company is expanding its Lamborghini car tuning programs.
New aerodynamic body kit for the Lamborghini Urus S and Urus Performante includes full set of carbon detailing: entire lower part of the front bumper, side bumper air ducts, fully carbon fiber hood, front and rear fender linings, side sills, mirrors, large rear bumper diffuser and aerodynamic linings, two spoilers and an overlay with «Lamborghini» lettering.
Each carbon element can be made from three types of carbon fiber to choose: branded Lamborghini Twill 2×2 carbon fiber, which visually matches exactly factory details; branded TopCar Design Twill 4×4 carbon fiber with a larger step of weaving; exclusive Stealth carbon fiber with triangle form weaving.
Each element of the body kit can be ordered separately and combined with a standard Lamborghini Urus carbon package with additional details from TopCar Design.
Branded ultralight forged wheels of both old and new designs with a diameter of 22 to 24 inches are also offered.
All carbon fiber elements are manufactured in the own TopCar Design factory always with the highest quality. We sell our parts worldwide through our network of regional dealers
If there's no TopCar Design dealer in your area, we can sell our parts to you directly. All our parts are installing according to factory standards and do not require additional modifications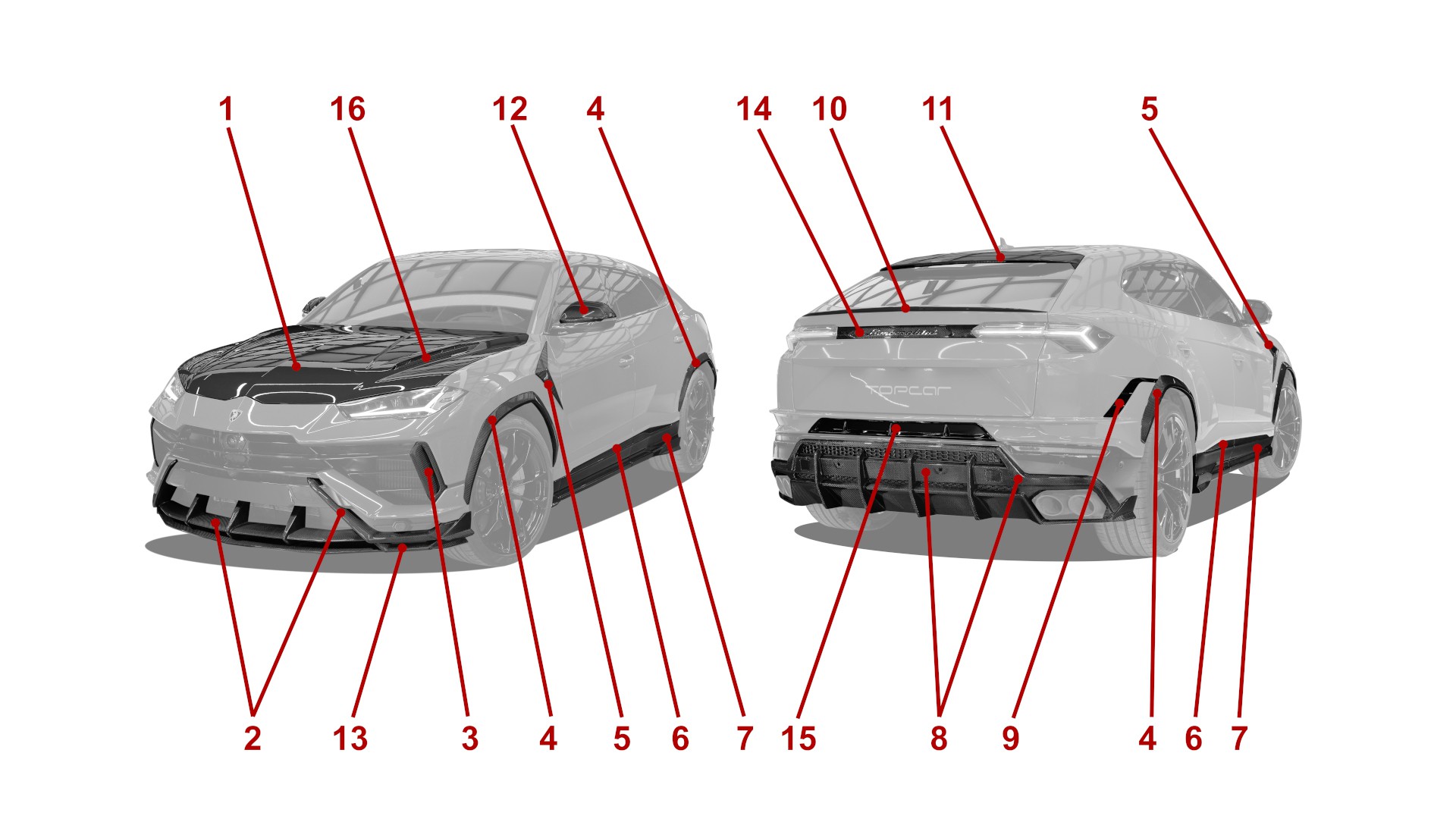 Title
Unit price
LAMBORGHINI URUS S - VISIBLE CARBON (2x2 or 4x4 TWILL)
1.1 Carbon bonnet, visible carbon fiber
9 160

.00 €

1.2 Carbon bonnet, Urus S
9 160

.00 €

2. Front bumper, bottom part, visible carbon fiber
3 600

.00 €

3. Air intake front bumper, 2 pcs, visible carbon fiber
1 450

.00 €

4. Fender extensions, 4 pcs, visible carbon fiber
3 270

.00 €

5. Side splitter with Logo, 2 pcs, visible carbon fiber
1 550

.00 €

6. Door moldings, 4 pcs, visible carbon fiber
1 400

.00 €

7. Side skirt extension, 2 pcs, visible carbon fiber
4 000

.00 €

8. Designed diffuser, visible carbon fiber
4 550

.00 €

9. Side air splitters, 2 pcs, visible carbon fiber
1 450

.00 €

10. Rear spoiler, bottom, visible carbon fiber
1 350

.00 €

11. Rear spoiler, top, visible carbon fiber
3 300

.00 €

12. Side mirrors, 2 pcs, visible carbon fiber
1 000

.00 €

13. Bottom lip of the front bumper, 1 pc, visible carbon fiber
2 500

.00 €

14. Lamborghini plate, 1 pc, visible carbon fiber
830

.00 €

15. Central pad of the rear bumper , 1 pc, visible carbon fiber
850

.00 €

TOTAL:
40 460

.00 €

16. Air ducts of the hood, 2 pcs, visible carbon fiber
850

.00 €

LAMBORGHINI URUS S - STEALTH CARBON
1.1 Carbon bonnet, Stealth carbon fiber
11 908

.00 €

1.2 Carbon bonnet, Urus S
11 908

.00 €

2. Front bumper, bottom part, Stealth carbon fiber
4 680

.00 €

3. Air intake front bumper, 2 pcs, Stealth carbon fiber
1 885

.00 €

4. Fender extensions, 4 pcs, Stealth carbon fiber
4 251

.00 €

5. Side splitter with Logo, 2 pcs, Stealth carbon fiber
2 015

.00 €

6. Door moldings, 4 pcs, Stealth carbon fiber
1 820

.00 €

7. Side skirt extension, 2 pcs, Stealth carbon fiber
5 200

.00 €

8. Designed diffuser, Stealth carbon fiber
5 915

.00 €

9. Side air splitters, 2 pcs, Stealth carbon fiber
1 885

.00 €

10. Rear spoiler, bottom, Stealth carbon fiber
1 755

.00 €

11. Rear spoiler, top, Stealth carbon fiber
4 290

.00 €

12. Side mirrors, 2 pcs, Stealth carbon fiber
1 300

.00 €

13. Bottom lip of the front bumper, 1 pc, Stealth carbon fiber
3 250

.00 €

14. Lamborghini plate, 1 pc, Stealth carbon fiber
1 079

.00 €

15. Central pad of the rear bumper , 1 pc, Stealth carbon fiber
1 105

.00 €

TOTAL:
52 538

.00 €

16. Air ducts of the hood, 2 pcs, Stealth carbon fiber
1 105

.00 €

Installation
Installation (all parts)
4 150

.00 €

Wheels
Forged ultralight Stealth Edition wheels for Lamborghini Urus (set of 4 pcs.): Front 22x10 inches, ET28, rear 22x11 inches, ET 22.
9 000

.00 €

Forged ultralight Stealth Edition wheels for Lamborghini Urus (set of 4 pcs.): front 23x10 inches, ET18, rear 23x11.5 inches, ET7.
10 560

.00 €

Forged ultralight Revo wheels for Lamborghini Urus (set of 4 pcs.): Front 22x10 inches, ET28, rear 22x11 inches, ET 22.
10 000

.00 €

Forged ultralight Revo wheels for Lamborghini Urus (set of 4 pcs.): front 23x10 inches, ET18, rear 23x11.5 inches, ET7.
11 560

.00 €