LUMMA СLR 558 GT-S
LUMMA DESIGN MAKES THE "LITTLE" CAYENNE HOTTER THAN ITS BIG BROTHER TURBO S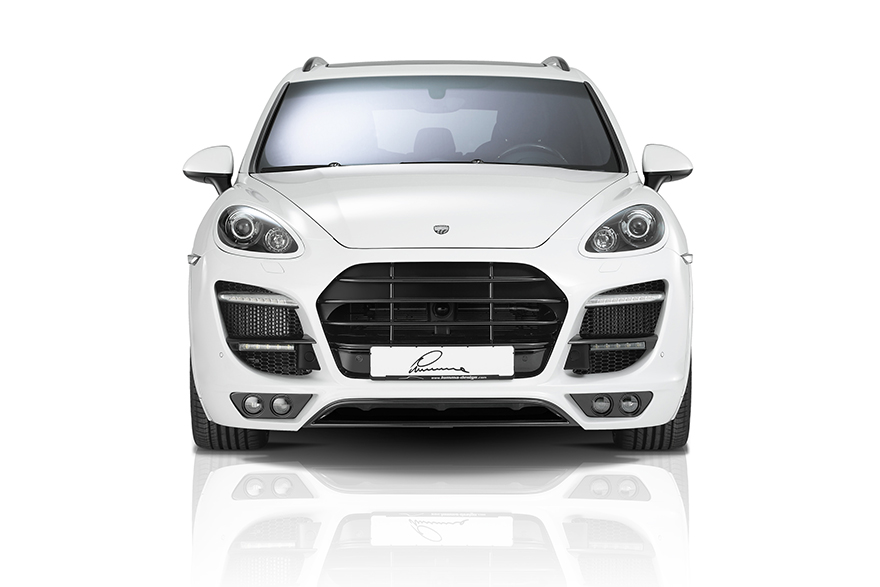 Discreet bodykit CLR 558 GT-S broadens the LUMMA Cayenne range
From the tailpipe set to the rear bumper
State-of-the-art wheel set available on custom sport rims
The new CLR 558 GT-S bodykit is especially made for those customers who like to combine sporty dynamics with understatement. The developers from the Swabian city of Winterlingen vow that this kit makes the Cayenne "hotter" than its big brother Turbo S, even without fender extensions. Front spoiler bumper, side skirts, and rear bumper fit all models from V6 to Turbo S and can be installed with all currently available wheel widenings. The front spoiler bumper CLR 558 GT-S, available at a price of EUR 3,510, should be in demand especially for the Cayenne models without turbo front. Huge air inlets, turbo turn signals, and additional daytime running lights in black draw attention to the vehicle front, giving it a more aggressive look. On request, the front spoiler bumper can also be equipped with corresponding fog lights and headlights in LED technology. As an alternative, fog lights and headlights are available in chrome-colored halogen technology. Of interest for drivers of leasing vehicles: the deinstallation of the tuning components can be carried out easily and without additional changes. Each attachment part can be installed using the standard mounting points. Those who want to individualize their SUV even further, can have the daytime running light struts, the front grill, and the base of the front spoiler painted in a contrasting color.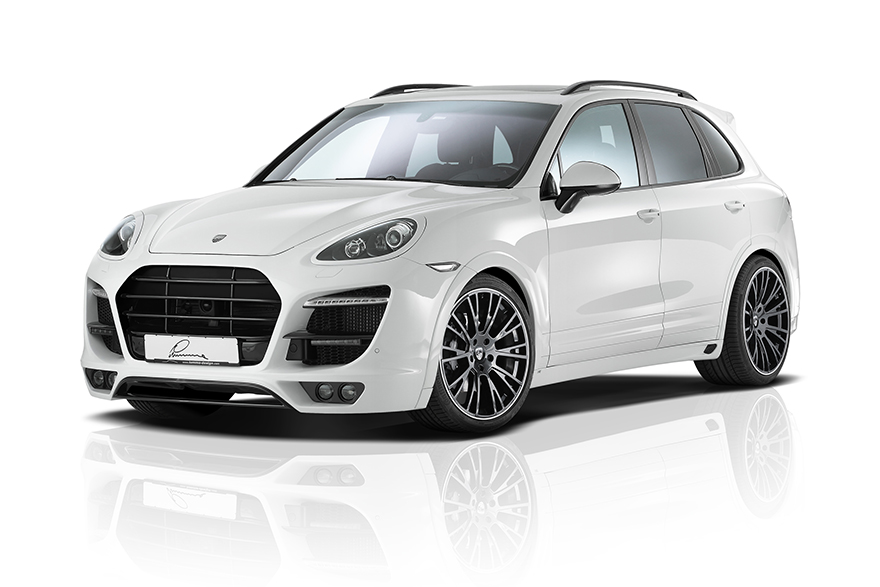 As a new addition to the range, the premium tuners from Winterlingen are also offering side skirts (EUR 1,725 per set) for the Porsche Cayenne. They are equipped with an opening that includes a lattice insert, and can be quickly installed in place of the original skirting. Painted in body color, they make the SUV appear as if it has been lowered. Off-road mobility and ground clearance are thereby only minimally restricted. There's also a more sporty look for the rear of the Cayenne: the newly designed rear apron bumper by LUMMA Design is now available for EUR 2,670. It features an integrated rear diffuser. According to LUMMA Design, all currently available exhaust systems can be installed. In addition, use of the new rear skirt bumper is no problem for vehicles with a trailer coupling.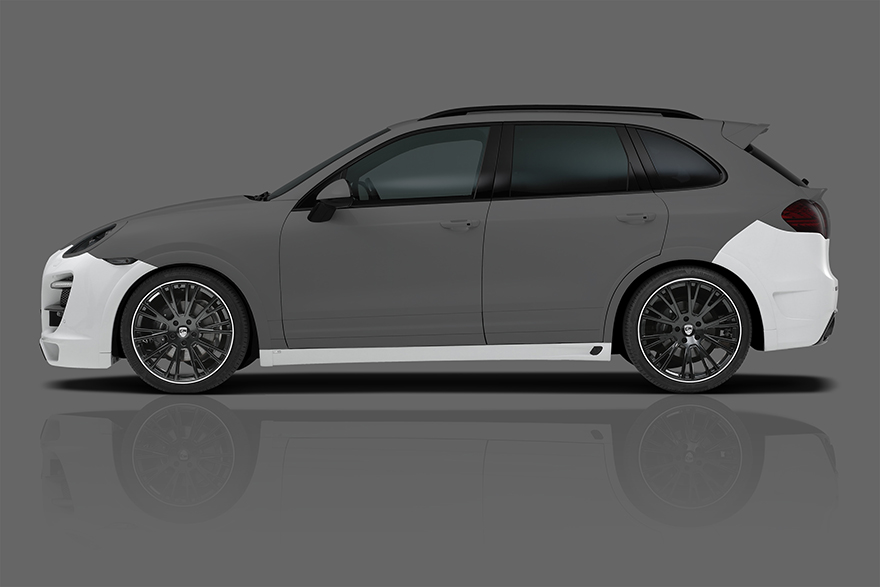 Whether V6, diesel, hybrid or Cayenne S: with the tailpipe set from the tuners in Winterlingen, every Cayenne is transformed into a snappy turbo. This is provided by the twin exhaust pipe deflectors with four 90-millimeter chrome tailpipes. The standard tailpipes can be exchanged for these in just minutes and completely without welding. The set, which includes two tailpipes per side, costs EUR 950. More is definitely more: LUMMA Design causes a sensation with its state-of-the-art wheel set, one of widest ever for standard Cayenne models. The company from Winterlingen offers a wheel-tire combination of 10x22 at the front axle on 295/30-22 tires and 12x22 at the rear axle with super-wide 335/25-22 tires for the Porsche. The corresponding sport rim model LUMMA CLR 22 by LUMMA Design, is available in the colors matt black, glossy black, or silver and can be furnished with designer stripes upon request. The complete wheel set with tires, including mounting and balancing, is offered for a price of EUR 5,400.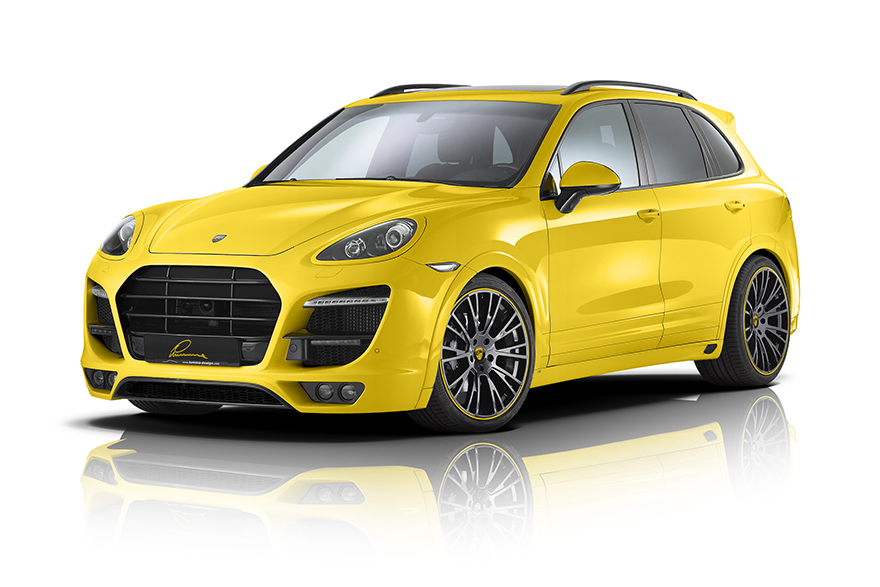 In addition to the previously mentioned remodeling components, LUMMA Design offers further modification parts for the Cayenne, including the widening bodykit CLR 558 GT, three different hood versions, headlight and taillight visors, roof and rear spoilers, seven different wheel rim versions between 19 and 23 inches, exterior elements in carbon, leather interiors, carbon and real wood interior components, and trunk mats with folding trunk sill protector. All conversion parts are TÜV-certified and can either be delivered after painting in the in-house facility or installed by LUMMA Design upon request.