Tuning Range Rover from Lumma Design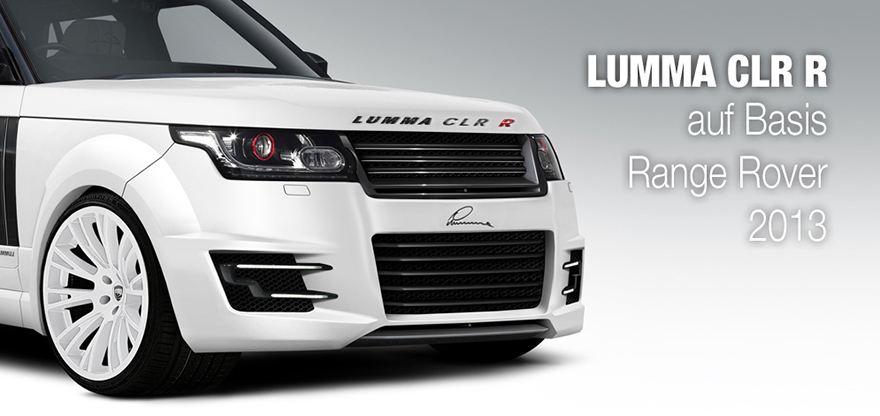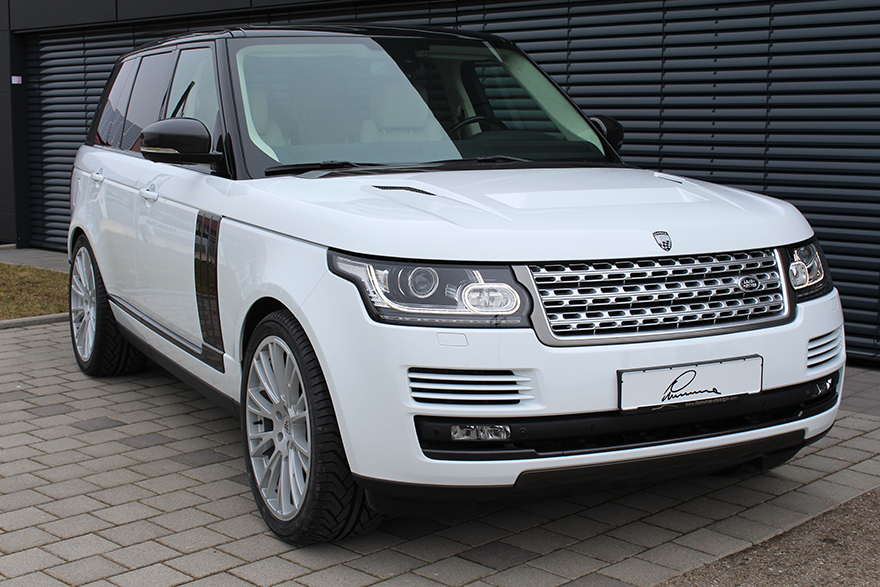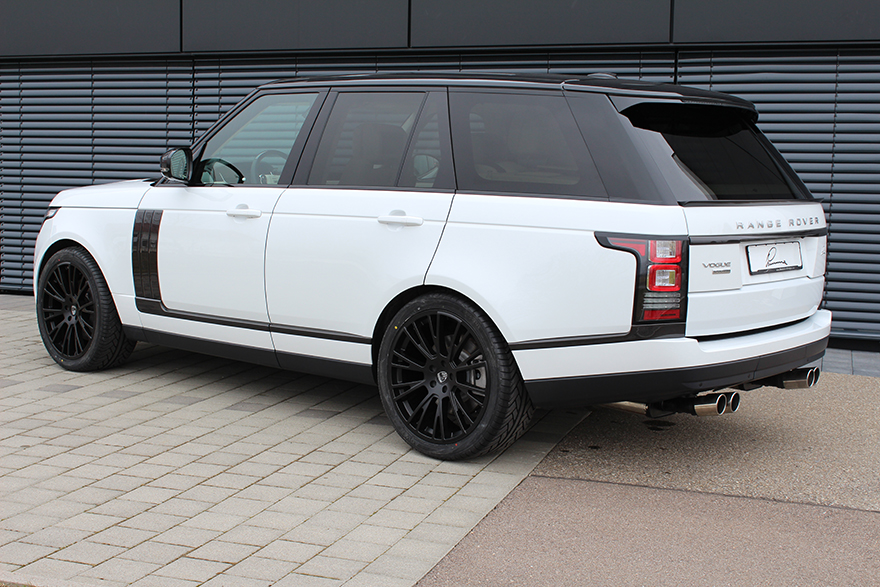 Company TOPCAR - the only official importer of the German company Lumma Design in Russia. Thanks to our cooperation the company Lumma Design has received wide popularity in Russia, particularly popular models earned CLR X650 and X650 M based on tuning BMW X6 and X6 M, respectively. At the moment, we are pleased to introduce a new model for our German colleagues - Lumma CLR R, which is based on tuning Range Rover 2013. The new Range Rover - one of the most anticipated new products next year. This SUV class "Lux" has gained immense popularity in Russia and my colleagues from Lumma Design see great prospects sport tuning Range Rover (Range Rover). Now more about the project tuning. Future aerodynamic body kit will includes:

front bumper with large air duct in the center of the small airways right and left and the new LED lights;
a new grille;
a new carbon-fiber hood, in two versions - with facial carbon and for painting;
Extenders front and rear arches (50mm extension on each side);
set thresholds;
rear bumper with carbon fiber exhaust tips;
spoiler on the trunk lid and the extended upper spoiler with an additional stop sign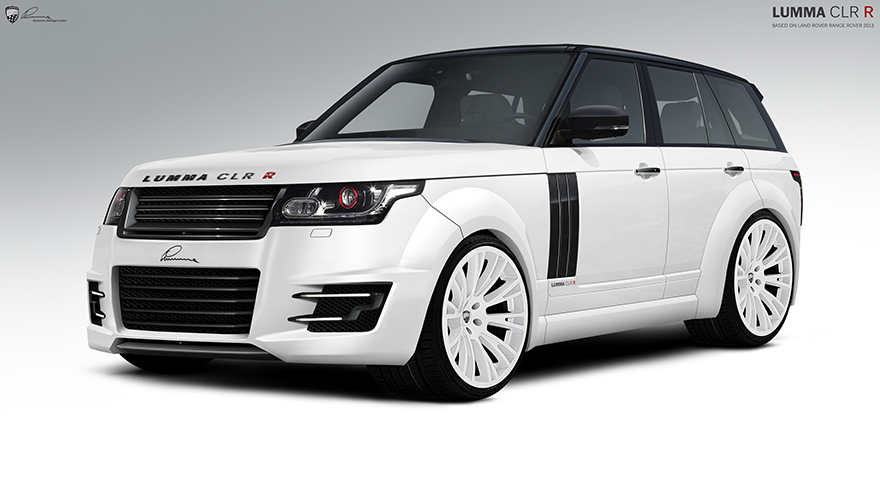 As mechanical improvements are planned:

Corporate suspension module, which is able to understate the car on 40mm;
sports exhaust system with throttle control system for better sound;
program to improve the capacity of the 5-liter engine to 560 hp ;
program to increase capacity for the diesel engine.

Lumma Design - is world famous tuning company, one of the first to offer a new bold decision for the famous Range Rover. The fourth generation of the classic SUV will be significantly lighter than their predecessors. Experts in aerodynamics of g.Vinterlingen created for a luxury crossover worthy of his body kit CLR R. It includes a front spoiler bumper with large air duct in the center and built a roof spoiler. Stylish side laths enhance the effect of LED daytime lights, creating an aura around the car soft light. In addition, designers have changed the look of the front grille to a more modern. Sports and dynamic image Range Rover'a continue in the tradition of premium cars and the company Lumma Design makes a stake on its sporty emphasis. This is evidenced by the extra-light weight and very strong hood made of solid carbon specially developed construction. Buyers can choose the hood in two versions - with Carboniferous and facial painting. The side air vents and leave no shadow of doubt that this car - a real athlete. Further - more dilators front and rear arches, combined with wider sills enhance the rapidity of image contrast to standard models. In a modification of well-known crossover Lumma getting on each side by as much as 50 mm wider. The rear bumper diffuser and carbon fiber, carbon fiber exhaust tips, an extended roof spoiler with an additional stop light and complement the spectacular image of a powerful inner essence car pioneer.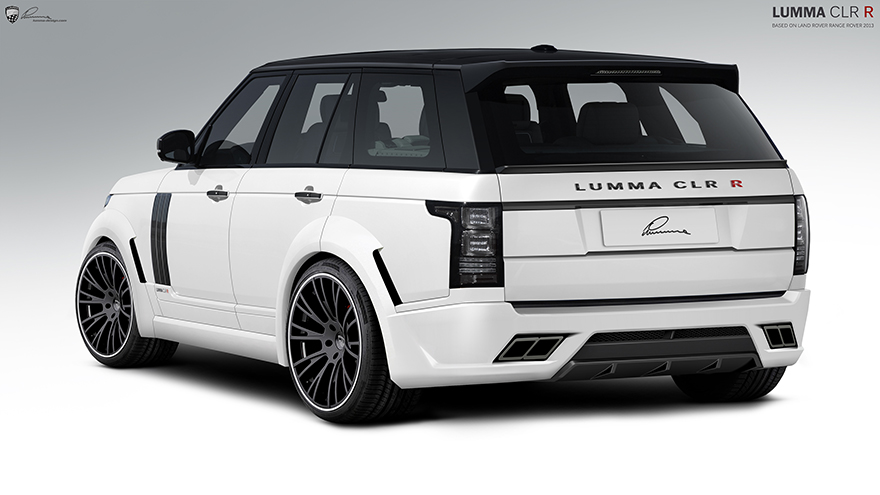 Under the huge wheel arches easily arranged by special wheels Lumma, model CLR 22 Mono, size 12h22 and tires 315 / 30-22. Special corporate module suspension from Lumma Design gives the car the ability to get closer to the asphalt on the essential 40mm. Sport exhaust system made of stainless steel contributes to even greater driver comfort SUV. A throttle control just good to hear. Developed the first program to improve the capacity of the 5-liter gasoline engine enhances its sporty characteristics. Lumma Design increases the power Rover'a Range from 510 to 540 hp As a result, gasoline engine power will be increased to 560 hp Soon also presented the program to increase capacity for the diesel engine. And provided exclusively-quality finish of the internal space of the vehicle. The Lumma Design is located in the interior design of high level of comfort, with classic leather trim in two colors, ergonomic chairs, cozy shining door panels and aluminum pedals. The first cars and body kits will be available from April 2013.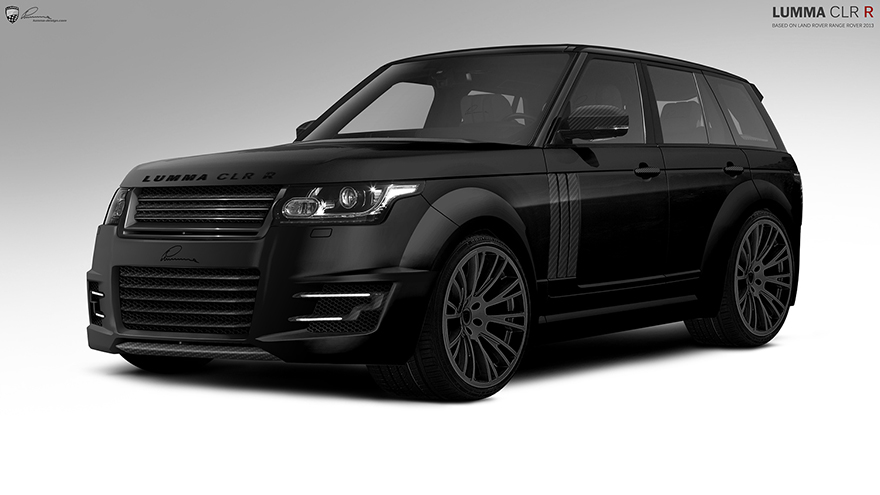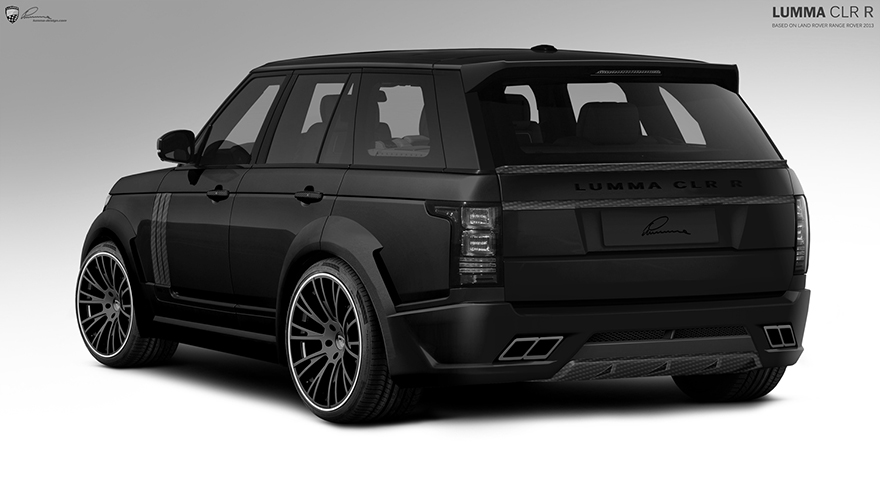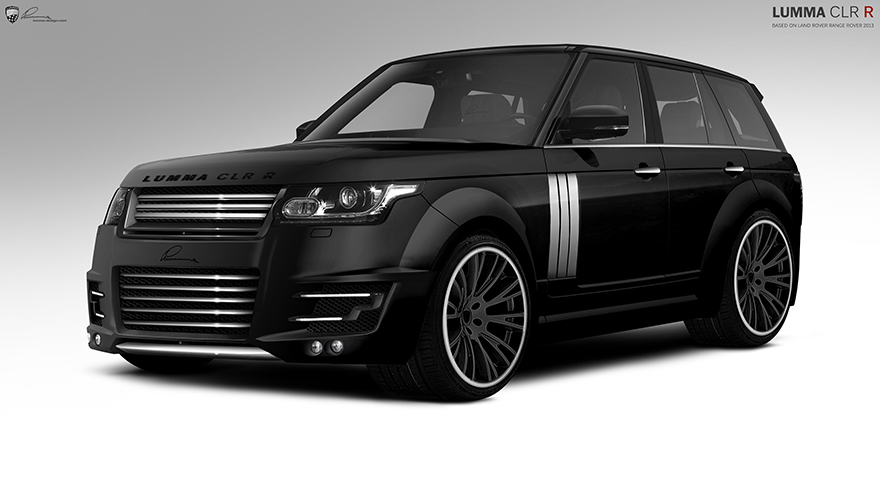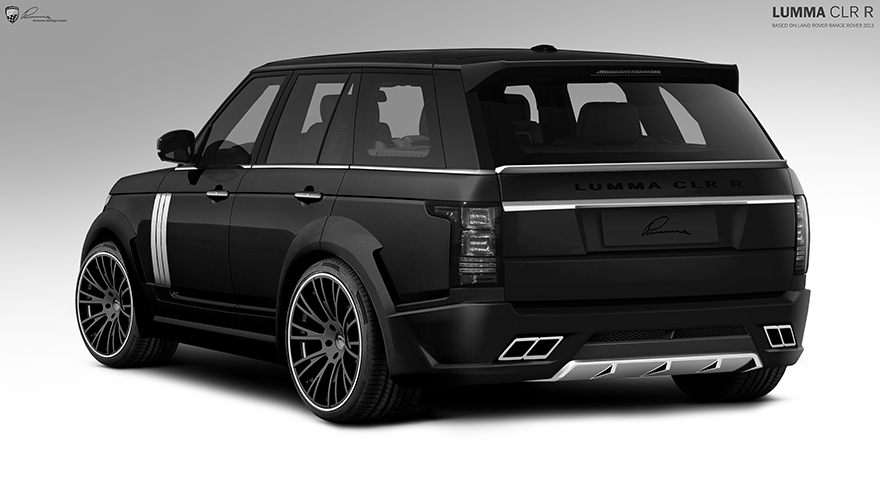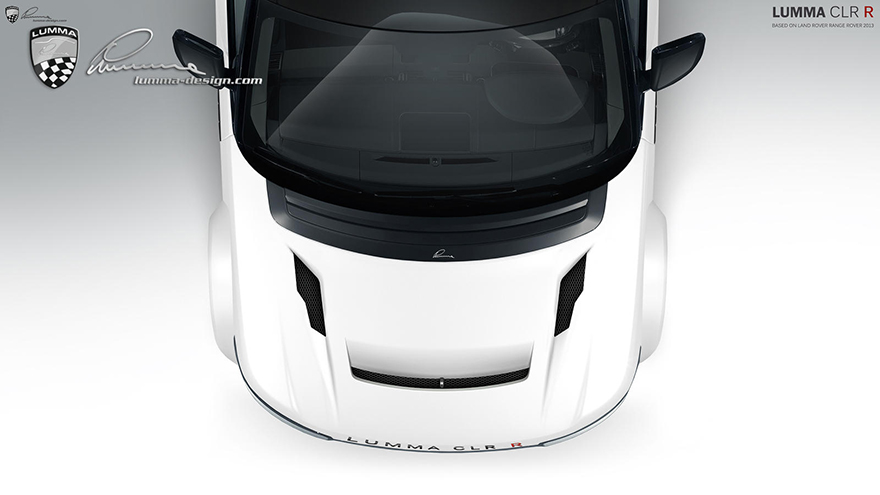 See also: Photo Tuning Range Rover various models

Gallery
Название
Цена за единицу
Комплект кузова
без Carbon Parts
€

28,693.00

Bodykit Range Rover CLR R


LUMMA car body CLR-R composed of: frontspoiler bumper with front guard insert at the bottom, daylight running lights frame, spoiler deflector at the buttom. Wheel arch extensions front and rear, door sill cover, rear bumper (not for cars with trailer coupling), rear diffuser, lettering front and rear LUMMA CLR R, assembly material.
16 220

.00

€



Installing the exhaust system
295

.00

€



Car parts assembly + Lacquer finish
4 500

.00

€



LUMMA rear spoiler lip CLR-R, paintable
379

.00

€



LUMMA daylight running lights kit with frame
650

.00

€



LUMMA sport exhaust muffler left & right, made of stainless steel, supersound for 5,0 petrol engine, export construction
4 500

.00

€

Wheels


LUMMA exclusive wheel set CLR 22 black gloss, front and rear 12x22 with tyre 305/35-22 or 10X22 with tyre 295/35/22
6 000

.00

€



LUMMA exclusive wheel set CLR 23 black gloss, front and rear 12x23 with tyre 305/30-23
7 500

.00

€



Wheel Spacers
649

.00

€

Additional options


LUMMA floor mats set of 4-pieces, with leather mount and LUMMA logo, color at choice
379

.00

€



LUMMA Aluminium pedal set, consisting of gas-, brake pedal and footrest
410

.00

€



LUMMA boot mat, with leather mount and LUMMA logo, color at choice
349

.00

€



Sports hood with slits
5 950

.00

€



LUMMA front grille
549

.00

€



Installation and painting front grille
200

.00

€



Adaptation of electrical thresholds
750

.00

€